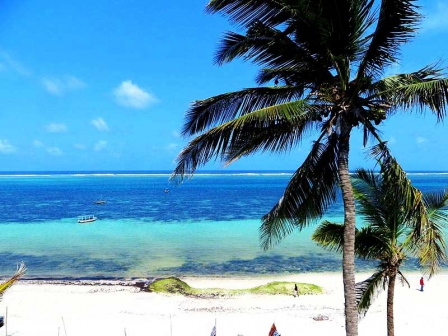 A German tourist left staff at a hospital in Diani in shock after claiming that Diani 'prostitutes' are too expensive to maintain.
Frank Heinz was booked for a day at the hospital after he allegedly ran mad after being fleeced by the prostitutes.
The former soldier who came to enjoy the beauty of nature at the coastal town is said to have had health complications, a situation that reportedly got worse when he was fleeced by the night nurses, that's according to his brother who lives in Germany.
The tourist is said to have gone mad, even stealing a mobile phone belonging to a nurse at the hospital. The police had to be called in to help retrieve the phone from him.
With a blue sack stuffed with papers and travelling documents on his back, Heinz is a disturbed man. He has nowhere to sleep and no money for food. He has had to depend on well-wishers for food, cigarettes and a place to lay his head.
The German, who speaks little English, told The Nairobian that he arrived in the country on May 20 this year.
"I came from Germany, went to Addis Ababa in Ethiopia, from where I took a flight to Mombasa. I then came down here in Diani in a matatu," he says as he reads what looks like his diary.
Through a translator, Heinz claims he gave his phone and all ATM cards to a local man who would withdraw the money whenever he needed it.
"I believed the man. I gave him my ATM cards and he was at liberty to carry out transactions on my behalf. I later realised that all my money had been withdrawn," he says.
The German tourist added that he used the same man to buy a motorbike, but to his surprise, the logbook did not have his name on it.
Daniel Ongechi, a watchman at a restaurant that Heinz frequents, told The Nairobian that there is a time he came with a woman and when asked for money, he said he had nothing.
The area OCPD Benjamin Rotich said that the person has a mental problem.
"The foreigner has a mental problem and the case should be referred to the department of immigration who have the mandate to deport and repatriate anybody who might have overstayed in the country. We are doing all we can to contact immigration officials to find out if he is here legally or illegally," said the OCPD.
Heinz is not the only one as the police told us that another German tourist, a lady whose details they did not provide, was to leave the country on July 13 after also running mad.
The woman is said to be rich and to have greatly sponsored a certain man in the town.
A German citizen, Stefan Andreas Delno who is 67 years old, is another foreigner who lost everything and had to sneak out of the country after his passport was confiscated.