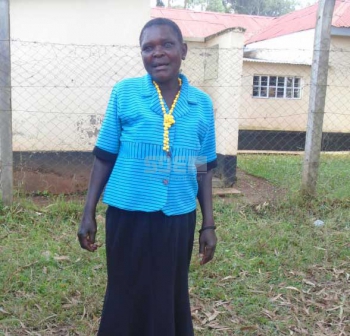 Two family members from Kakamega are fighting over who should inherit their late brother's wife.
Alfred Mukhobi died in 2010 after a short illness, leaving behind his wife, Rose Abwona, 45, a mother of nine.
Mukhobi's cousin, Alexander Alusa, went ahead to inherit Rose and has been taking care of her and providing for her kids.
However, this matter has angered Mukhobi's brother, Henry Mukhobi, who has accused Alusa of being "selfish and greedy."
It is alleged that on several occasions, he (Henry) attacked Alusa, leaving him with serious injuries.
Speaking to The Nairobian, Henry said that Alusa's decision to inherit his late brother's wife was wrong and could anger Mukhobi's spirits.
He claimed he was the rightful inheritor because he was the deceased's brother.
 "If my late brother learns that he inherited his wife, trust me, he will be very angry," said Henry adding that, "This man Alusa even moved into my brother's house, which is disrespectful! What nonsense is that?"   
Alusa, on the other hand, claimed that Henry was just being petty since he knows Rose is madly in love with him.
He told The Nairobian that traditionally, he is the rightful inheritor.
"I was to build Rose a new house, but the community didn't allow it. She appreciates the fact that I have been paying her kids' school fees and providing for her since her husband died," the 69-year-old father of one child who lost his wife in 1998, said.
Alusa further claimed that he moved into Rose's house because it was near his place of work.
"I work at a hotel in Kakamega town as a plumber and living in Khayega is more convenient since I can get to town early enough, compared to when I used to live in Chirobani. I removed one iron sheet from  my late cousin's house and replaced it with a brand new one as tradition dictates. I also shifted the bed position to signify a new beginning," he said.
Rose told The Nairobian that she loves Alusa and has no plans of leaving him since he even paid her dowry.
"I love him. He gave my parents Sh20,000 and one cow that my late husband hadn't finished paying," she said.
She accused Henry of being abusive and disrespectful.
"He is abusive, yet he wants my hand in marriage. He abused me when he was working as a government officer in 2014.  He had threatened to kick me out of my homestead after I refused his advances," she said.
Mumias ACK Bishop Beneah Salalah, noted that if the couple had opted for a church wedding, such drama could have been avoided.