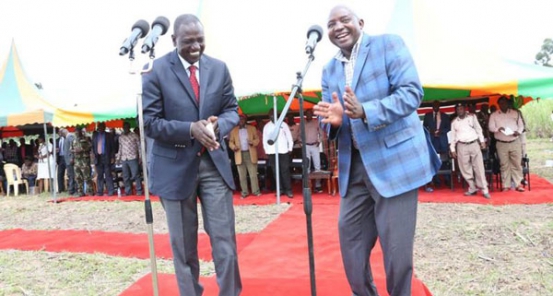 It's been barely a month since DP William Ruto offered his two daughters to Mumias men. The DP told his detractors to leave him alone because they didn't know what he was after in Luhyaland.
"You can choose your friends, but not your neighbours. There are people questioning why I am always in Western. They should know that I am a neighbour to those in Western. In any case, Western Kenya women are very beautiful. What will you do if I get one of the beautiful women here and bought a plot to settle among you?" he posed to a laughing audience in Lugari last weekend.
He vowed not to stop his incessant incursions into the region until he achieves his unspecified goal. This left many residents of Chevaywa in Lugari wondering what his real intentions were.
Residents of the area however said they were ready and willing to have the DP as an in-law.
"I think he has a thing for our women. He has been to Matete, Malava, Mumias and Bungoma and assured us of his return to Western in three weeks' time. We have to tell our women to look beautiful when the DP is in town," said Ernest Wesonga, a resident of Chevaywa in Lugari Constituency.