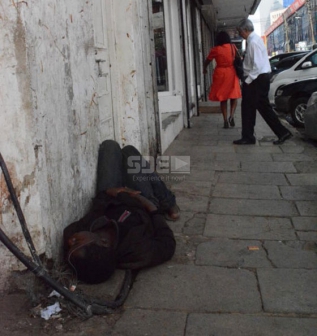 Nairobi businessmen have lamented City Hall's failure to move a group of street boys who have turned their premises into a lodging and toilet.
The owners of Market Fancy Emporium Ltd, a clothes dealer at the junction of Muindi Bingu Street and Tubman Road in the city centre said they're tired of taking care of the mess left behind every morning.
"We have to clean the food waste and sometimes their poo. They are a bother and security threat to our customers" said Sobhag Shan, one of the businessmen, adding that  a group of over 10 street boys spend nights outside their premise besides climbing to the roof where the relieve themselves in the dead of night, but the county officials have been reluctant in tackling the problem.
"The county promise to take action but instead they fine us for failing to keep the walls clean. They are to blame for this mess not us" lamented Shah who said the stench has been pushing away customers, particularly  foreigners.
The county has been promising to relocate the street children to a rehabilitation centre under construction in Ruai.