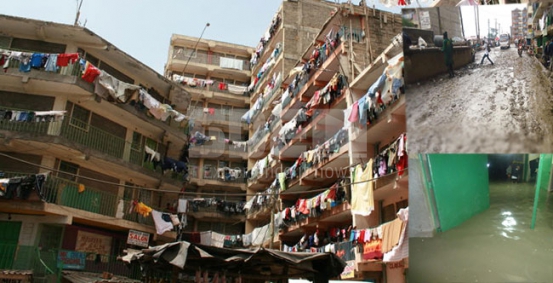 It was April 7, 2015. A piercing scream rent the air a few minutes past nine in the morning. This writer was visiting a lady friend in a cramped flat, on the second floor of a block of flats owned by a retired senior police officer.
The screamer let out another ear-splitting howl and within minutes, everyone was on the ground floor washrooms. A neighbour had caught a young man having sex with his elder sister in the washrooms. The girl was in her 20s while the boy was in his late teens.
Like a herd of sheep, the crowd dragged the naked man out of the washrooms onto the road where they set on him with kicks and blows.
The sister, leso wrapped around her wet body and a green shower cap on her head, was screaming her voice hoarse, and trying to rescue her lover.
Sensing death, the young man managed to wriggle from his tormentors and shot off like a bolt of lightning towards Taj Mall. No one gave chase.
With nothing more to do, one of the people who had been beating the boy asked, "Kwani alikuwa amefanya nini (by the way, what had he done)?"
Nearly everyone who had been involved in the mob justice didn't know either. They only joined the frenzy to play up to some primordial, suppressed fury to kill boredom.
Welcome to Pipeline estate in Embakasi, home to 100,000 people who work in Nairobi.
A lower middle class estate (if ever there is such a thing), Pipeline is a blend of irregular and unregulated high-rise flats teeming with humanity.
Stretching as far as the eye can see on rows upon rows with rugged uniformity, Pipeline estate's development conjures images of a concrete slum, even a prison block.
Nairobi County Executive in charge of Urban Planning and Lands, Christopher Khaemba, says the estate was developed without a plan and City Hall must now review what is going on.
"Pipeline (estate) has close to 100,000 people but no public school. They (residents) are not the type that has money to take their children to private schools," noted Khaemba.
According to the retired Alliance High School principal, houses built in the estate are mostly owned by private investors and the county government will meet with stakeholders to decide which buildings to bring down to pave way for the construction of a public school.
In Pipeline estate, anything goes. While this writer was taking a stroll in the estate, he came across more than six day-care centres operating from single-room apartments.
The washrooms are shared and all the kids use one 'pottie' to relieve themselves. Adverts are placed just above the houses. It only costs Sh60 to leave your child at a day-care.
The Nairobian Spoke to Laura Nyangweso who said she started her day-care business to help house helps who work in other estates and surrounding blocks.
"The mothers here cannot carry the children all the way to Nyayo Estate or Fedha. So, they bring their children here for about four hours and then pick them later," said Nyangweso.
Apart from running the day-care centre, she is also a salonist, besides running a grocery stall nearby.
She revealed that no children's officer has ever ventured into the estate to inspect the place and that she also did not have a permit, but that she was willing to get one if shown how to.
"It is just that I don't know about that," she admitted.
Pipeline is never silent. There is always a sea of people milling around kiosks, churches or shuffling around aimlessly. In the evenings or mornings, human traffic is almost stifling.
"The first time I came to Pipeline, I arrived on an evening. Nilidhani kuna maandamano (I thought there was a demonstration)! There were so many people, all walking in one direction," says Elias Ndung'u, a graphic designer.
Daniel, a father of two who is popularly known as Deno, runs a kinyozi in Pipeline observed that, "Hii mtaa iko safe sana. Watu hutembea mpaka after midnight (this neighbourhood is very safe and people go about their business even past midnight), so no one can attack you." His barber shop also doubles up as a 'base' where he sells khat.
"People here work in factories and at the airport, so it isn't strange to find someone leaving the house at 3am to go to work, because that is when his or her shift starts. There are always people walking about," says Deno.
Some of the busiest people in Pipeline are water vendors. Since the estate is unstructured, the taps have literally been dry for years, and water vendors sell 20-litre jerrycans for Sh20. In Pipeline, people 'obey their thirst' in countless noisy pubs on the ground floor of nearly every building playing Kamba songs or reggae.
Not surprisingly, cheap lodgings and even cheaper women are easily available with every three blocks boasting of 'self-contained accommodation' – a euphemism for a house of sin.
As if to wash away the stain of sin that lurks behind every alley in Pipeline, churches sprout at every corner.