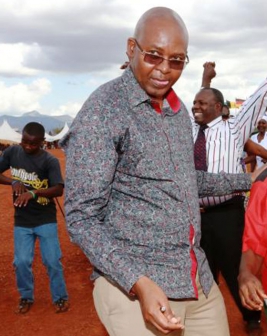 Taita-Taveta Governor JOHN MRUTTU spoke to JECKONIA OTIENO about human-wildlife conflict between his people and Tsavo elephants, why Luhya and Luo men love the Coast and why Mombasa Republican Council pops up each election year
Some Coast politicians affiliated to Cord have been accused of abandoning their party and becoming Jubilee moles...
It is worrying to see MPs rebelling against the parties that sponsored them to Parliament in the name of working with government in total disregard of party ideals. While the laws are clear on party hopping, the trend is still on. There is no way you can have one foot in a party and still play to the ideals of another party. Democracy grows through parties and there needs to be tough action against rebels. Party hopping must be punished.
Every election year, the Mombasa Republican Council (MRC) pops up and violence flares at the Coast. What could be the reason?
This problem goes back to the days of Kaya Bombo and Islamic Party of Kenya. The people of the Coast have been agitating for certain issues which are yet to be addressed. One of the biggest problem is absentee landlords who come after years and threaten to evict squatters on the land they claim to own.
This has been a source of conflict. Lack of titles has also been an issue and if these are not solved, then the problem of MRC might just persist. Land is the root cause of these violent eruptions.
Defilement, Female Genital Mutilation (FGM) and gender-based violence are big issues in Taita Taveta. What are you doing about it?
It is true that these issues are a challenge. FGM widespread than I ever imagined. In the past, we lived in denial, which allowed perpetrators to continue with their business undeterred, but together with our partners like World Vision and ActionAid, we have raised awareness. We have also increased budgetary allocations towards fighting these vices.
The biggest problem is that most people are not willing to report cases to the authorities or give evidence in court, so most cases end up getting dismissed. We are, however, planning to set up shelters for victims as one way of solving this problem.
Leaders from Taita-Taveta have been in conflict with the Tsavo parks for years. What are the issues?
A huge chunk of Tsavo is in Taita-Taveta and setting up the game reserve was a noble idea. However, the model adopted for conservation that has been in place since 1948 is not sustainable. There is need to reshape it. Human population has been growing, thus leading to human-wildlife conflict. The best way this can be avoided is by creating a barrier between the animals and people.
For instance, animals like buffaloes are the main carriers of the foot and mouth disease. Why can't we use a model like that in Botswana, where there is a physical barrier between people and animals? Also, local communities must benefit from the parks, so there is need to work a way through which a certain percentage of tourism revenues can be set aside for the people, or else, the community will find it difficult to appreciate the conservation area. There is also need to compensate victims of human-wildlife conflicts.
Do you agree with the burning of ivory by President Uhuru Kenyatta?
I do not agree with it one bit! Elephants are killed for ivory or due to human-wildlife conflict. Unless you solve both, you will continue losing elephants. Why not use the stockpiles to build an ivory tower which will send a stronger message than releasing tonnes of carbon into the atmosphere during the burning process?
We have put a proposal to the national government that any ivory retrieved from the Tsavo should be given to this county to put up a tower because burning has not solved anything.
What have you achieved as governor so far?
We have put a lot of resources on education, especially early childhood education. We have built or refurbished about 84 early childhood development centres and employed teachers who are permanent and pensionable; 80 more are under construction.
We have also started a feeding programme. This has seen school enrolment increase from 12,000 to 21,000. We've built and refurbished youth polytechnics and every ward will have a polytechnic.
On livestock development, we have improved breeds because the indigenous breeds are smaller and not economically profitable. This is done at subsidised prices and we have targeted learning institutions and groups as conduits for achieving this goal. Orange farming in Sagalla has been revived through provision of 3,000 seedlings.
Bananas are also being grown in the western part of the county. Up the slopes, we have revived macadamia farming and introduced new breeds of Irish potatoes. Farmers have also been encouraged to form cooperatives.
Our health sector has seen growth of new maternity centres with deliveries increasing from 2,900 to 4,000. Our inpatient capacity has grown from 9,000 two years ago to 14,000. Outpatient capacity also increased to 110,000 from 84,000 in 2012-2013. We want all citizens above 65 years of age to receive free medical care.
What are you doing to tackle drug addiction in your county?
Taita Taveta is a conduit for narcotics because it lies along the Mombasa-Nairobi highway and also straddles an international boundary (with Tanzania).
One of the biggest problems that we have here however is alcohol abuse, which started when former President Daniel arap Moi banned local brews, forcing brewers to resort to selling liquor clandestinely without quality checks.
We therefore need to accept that local brews are part of our communities and we just need to ensure quality checks. Some of this liquor is brewed and served in homes. This exposes children to alcohol early in life.
Arguments have been made that the number of counties need to be reduced. What is your take?
Kenyans are appreciating devolution and the fact that they can reach and hold their leaders accountable. Those thinking that they will kill devolution must continue dreaming because it will not happen.
The development seen in just three years is more than what the central government achieved since independence. This is why devolution must be protected at all cost.
It is said that Luhya and Luo men who set foot at the Coast never go back home. Why?
I think it is mainly because of our hospitality as a people, which makes other Kenyans want to continue staying here. With our warm welcome, nobody would want to leave these shores.