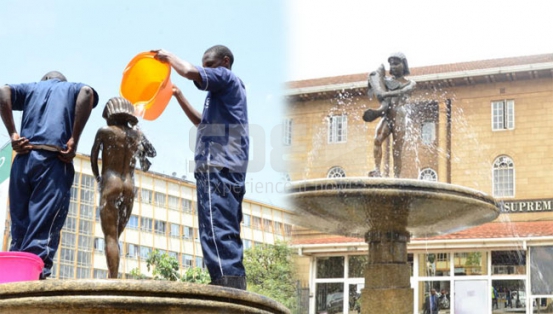 Justice is emotive, just why the recent 'conclusion' of the ICC cases that were facing President Uhuru Kenyatta and company evoked the question of whether retributive justice was delivered for the victims of the 2008 post-election violence in Kenya.
That question invokes the symbolism of the bronze statue with a concrete base outside the Supreme Court in Nairobi, depicting a blind,naked boy donning a wig while clutching a fish and peeing into a fountain, whose water continuously sprays the boy from four turtles.
The statue, nicknamed 'Onyango' by some Judiciary officers, is meant to portray justice as 'naked, blind and slippery like a fish.' Justice is also fearless as a child.
Nderitu Njoka, the chair of Maendeleo ya Wanaume complained that the statue misrepresented the boy child. He charged in 2009 to deaf judicial ears saying it "does not portray naked justice. Instead, it portrays naked injustice."
But did you know the naked boy statue is officially called the Hamilton Fountain?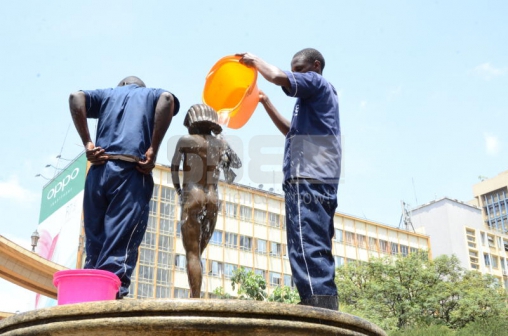 Well, it was erected in honour of lawyer Alexander George Hamilton who died in 1937, when Sir Robert Brooke-Popham was the colonial governor of Kenya.
At the time, Italy had invaded Ethiopia and in that light, the nabobs in London saw it fit to have someone with military experience, hence the appointment of Sir Robert Brooke, who was an Air Chief Marshall and the right man were Kenya to go to war against Italy.
That was never to be. Ethiopia resisted and overcame the Italian invasion.
Back to the Hamilton Fountain. It was commissioned by Gertrude Hamilton, wife of Alexander Hamilton who stood for justice.
But did you know that the 'Onyango' we have today is only a replica of the original which was lost at sea when the ship ferrying it from England sank in the Indian Ocean?
The replica was stolen, which tells you 'Nairobbery' did not start yesterday. City Hall, which takes care of monuments under its jurisdiction, commissioned a third statue, this time from sculpture Robert Glenn.
While the Lord Delamere, King George V and King George VI statues were removed after Kenya attained her independence in 1963, the Queen Victoria statue inside Nairobi's Jeevanjee Gardens remains, as does the Hamilton Fountain, over 70s years...and still peeing!
Related Topics