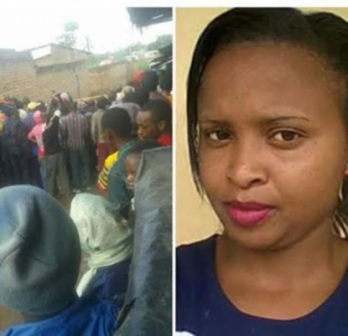 Residents of Kitui were left speechless after a Kenya Defence Forces soldier shot dead his girlfriend before turning the gun on himself.
The woman, identified as Elizabeth Kivuva (pictured left) reportedly worked as a pharmacist at a chemist near Kitui County Referral Hospital.
The army man, identified as Fredrick Mutia, was reportedly based at Mariakani 77 artillery battalion.
It is alleged that Mutia, 31, shot Elizabeth after a brief argument at around 7am as the pharmacist prepared to leave for work. Neighbours claimed that Mutia may have shot his lover after accusing her of having an affair with another man.
The army officer is said to have locked himself in the house after shooting Elizabeth who managed to rush to her neighbour's door as she bled profusely. Mutia reportedly locked himself in the house and refused to come out. Police arrived at the scene and pleaded with the officer in vain. It was then that he reportedly fired at the officers prompting them to fire back.
"We forced the metallic door open and stormed into the house only to find the officer dead with his brains out. He had shot himself through the chin," said the Kitui Central OCPD, Kennedy Osando.
Neighbours claimed that Elizabeth was bleeding from her chest. According to her neighbour, a secondary school student, Elizabeth fell on the floor and died.
The bodies of the KDF soldier and the woman were taken to Kitui County Referral Hospital mortuary.
—John Muhia