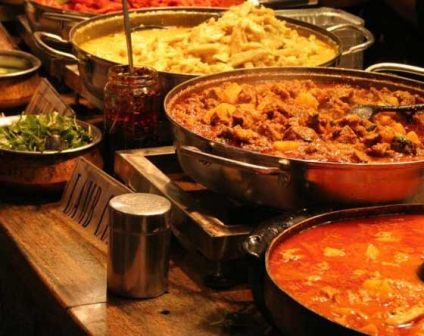 Elders from Siaya County have threatened to cast a spell on health officials who have banned eating at funerals due to a cholera outbreak.
They argued that feasting at funerals was a highly regarded Luo custom aimed at giving the deceased a befitting send-off. Some people also argued that funerals are the only places where they can enjoy decent meals.
A cholera outbreak in Ugunja, Ugenya, Gem and Alego sub-counties has so far left nine people dead and over 180 hospitalised. The county director of health, Dr Samwuel Omondi, has since banned eating in funerals and hawking of food.
"It is not a burial until the community eats and failure to provide food might anger the dead who could haunt us by demanding a better send-off," said Odhiambo Okello, a 74-year-old elder from Kakan village in Alego Usonga.
He added that, "If we do not cook at a funeral, we'll invite misery into our village."
Johannes Ochieng from Mbaga in Siaya says the tradition must be respected even it means cooking and eating privately during the funeral.
"We have to cook and eat because that is our tradition. The law should not interfere with our culture, especially those that link us with the dead," said the 77-year-old mzee warned.
Feasting at funerals has always received harsh criticism, especially when the burden is left to the family of the deceased. Some religious leaders claim that this custom has been abused and advise people from the county to move with changing times.
According to Reverend Joel Atong of the St Peter's Anglican Church in Siaya, a huge funeral budget drains the financial resources of a mourning family.
"Times are changing very fast and the Luo community must adjust accordingly. Today, mourners can carry packed lunch and water to avoid diseases like cholera," said the reverend.