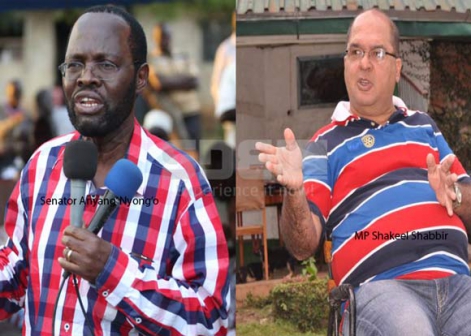 There is heightened political jostling in Kisumu County ahead of what is expected to be a titanic battle for the governor's seat in 2017.
No fewer than six contestants have declared interest in unseating Governor Jack Ranguma from the plum job.
Some of the notable politicians considering gunning for the post are Senator Anyang' Nyong'o (Kisumu), incumbent Ranguma and Deputy Governor Ruth Odinga. Kisumu East MP Shakeel Shabbir Ogra Foundation boss Hezron McObewa, former MP Ojwang K'Ombudo and Asaka Nyangara are said to have already started preparing for the epic battle next year.
McObewa, in one of his meetings, declared Ranguma a 'failure' for betraying the electorate by not delivering on his promises. In the last couple of weeks, the two leaders have been meeting the youth, mostly boda boda operators, who form a big percentage of voters.
Shabbir however told The Nairobian that he is still waiting for his constituents to tell him whether to contest or not.
"I would vie if my people tell me to do so," he said in an interview.
Shabbir says that should he contest and become Kisumu Governor, he will "cut down on the showy things Ranguma does" and make his office more accessible and accountable to the people.
"Corruption has gone too far. My priority will be fighting graft," he said while accusing Ranguma of making numerous foreign trips which do not add value to the people of Kisumu.
Ranguma's decision to set Sh72 million for the purchase of Prados for his 10 executive committee members and to blow millions of tax payers' money in hotels might haunt him in the coming months.
Because Kisumu County is an Orange Democratic Movement (ODM) stronghold, party loyalty will hold great sway during the campaigns. Prof Nyong'o, who once served as the party's Secretary General, is perceived to be close to party leader Raila Odinga.
Asked whether he will stand, the professor cryptically said, "Let those with eyes see, and those with ears hear. The elections will be in 2017. I will announce my plans at an appropriate time."
Political analyst Barrack Muluka says the chaos and murmurs witnessed during the 2013 ODM party primaries are likely to recur in 2017.
In the 2013 party nominations, Raila's sister Ruth Odinga won the ODM ticket but was later prevailed upon to play second fiddle as Ranguma's running mate to prevent a backlash against the Cord leader. Muluka opines that Ruth Odinga's chances are remote and that she is unlikely to work with Ranguma in 2017.
"Ruth Odinga is deemed an 'outsider' in Kisumu because she hails from Siaya. That, plus the Odingaism factor, could work against her candidature," says Muluka. "It's also extremely unlikely for her to partner with Ranguma in the next polls," he adds.
Muluka also cautions that it would be dangerous for the party to favour particular candidates as this could result in voter apathy.
"The party has been embroiled in controversies over disputed party primaries. People being told to vote candidates they do not support is very dangerous as it discourages voters from participating in elections, which affects the presidential candidate.
"Nyong'o was ODM's Secretary General and he vied for the Senate seat which he won, but there were loud murmurs," observes Muluka.
For Governor Ranguma, Muluka notes, claims of misappropriation of funds would definitely be used against him, but ultimately, the candidate deemed closest to Raila would have a head start.
"Numbers alone are not good. They have to be close to the party leader Raila Odinga to stand a chance," he explains.