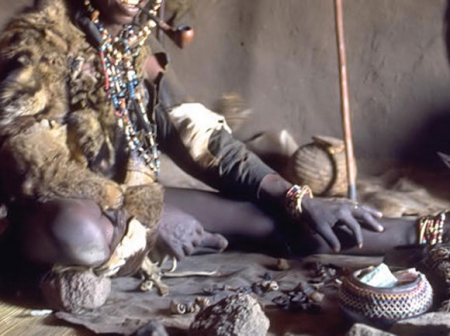 Early this year, residents of Mwazaro village in Shimoni, Kwale County, were treated to rare spectacle.
Witchdoctors claiming to have powers to resurrect the dead arrived with their tools of trade to bring Dominic Kyalo, who had died 14 months earlier, back to life.
Amid song and dance, residents who thronged the scene anxiously waited to see Kyalo miraculously walking back home or emerging from nowhere.
"We closed our businesses to come and witness our neighbour whom we buried a year ago coming back to life," said Juma Doka a resident at Mwazaro.
He said that they just come to see whether it was true or false adding that in the years he had lived, he had never witnessed or heard of such a thing happening.
It is believed that Kyalo who was 'buried' in October 2013 did not die a normal death but was 'killed' by a witch who hid his body in a secret place for juju.
The family buried a banana stem stem when they were unable to trace his remains.
According to his wife Felistus Mumbua, Kyalo was a good man who was loved by family and friends.
Though shaken by his disappearance, they did not believe he was truly dead and as a family, they sat and decided to unravel the mystery behind his death by seeking the intervention of witchdoctors.
"The 'doctors' conducted their research and found out that my husband was not dead but was 'hidden' somewhere and was undergoing torture," she said.
Mumbua was optimistic that her husband would come back to life and expressed hope that she would be happy to live with him again.
Samwel Kanundu, one of the witchdoctors performing the 'miracle', claimed that was not the first time he was bringing the dead back to life and that he had resurrected five people in other parts of Kwale County and beyond.
"This is my day to day job. It is my source of income and I am assuring you that before the sun sets, we will have finished everything. We have been here three times and today is the last," he promised.
Unfortunately for all concerned, the story did not have a happy ending.
When Kyalo did not come back to life, Kanundu was confronted by angry residents for wasting their time. They demanded to know whether he was telling the truth as the mganga pleaded with them to be calm and judge the exercise after the close of business.
But by sunset, it was clear the mission had flopped with Kanundu asking the disappointed crowd to retire to their homes and wait for a little longer because the "pastor was tired".