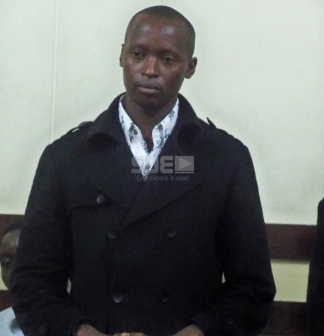 A police officer attached to the General Service Unit headquarters in Nairobi has found himself in court for allegedly shooting and injuring a man in a pub in Starehe.
The officer, James Gichuru Kinyua, reportedly shot Kelvin Juma Onyango on November 14 following a disagreement.
The court heard that the accused was having a drink in the company of a woman believed to be his girlfriend at the club where Onyango works as a bouncer.
According to police, a quarrel started around 4am after Gichuru's girlfriend claimed her phone had been stolen. A bitter exchange is said to have ensued at their table, prompting the club's management to ask some patrons to vacate the premises and sort the case outside.
The court heard that Gichuru, who was visibly intoxicated, stepped outside and threatened to shoot all the patrons until he got his girlfriend's allegedly stolen phone.
He is said to have aimed his gun at another woman whom they reportedly accused of the theft, but the bullet hit Juma's left knee instead.
The accused denied the charges. The case will be mentioned on December 2.