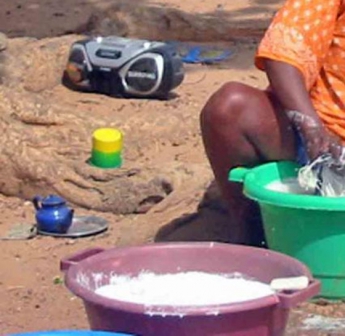 You have seen them doing the rounds in estates looking for menial household jobs like washing clothes or cleaning houses. Sometimes they have their little ones strapped to their backs.
They are commonly referred to as mama nguo or mama kuosha. It is a gamble to get a client. However, the script is different in Eldoret. Male clients come flocking, but for other reasons.
Speaking to The Nairobian, the women claimed that some of their male clients sexually harass them, and when they turn down their advance, they don't get paid.
They allege that the men, mostly bachelors, demand to pay them in exchange for sex. Those who turn down the deal reportedly end up going home empty-handed even after working.
 Jane Chesang, a mother of three, shared how on different occasions, she has slept hungry after her client refused to pay her. "Most of us have really suffered. You wash their clothes, clean their houses, and after doing all that work, they refuse to pay and demand you have sex with them first.  A few months ago, I met this man who pretended to be a born-again Christian.
I did not suspect anything fishy when he offered to make lunch as I finished cleaning," she says. She adds that, "After lunch, he asked me to join him in his bedroom for an afternoon nap, which I refused. He got so angry and claimed I had done a bad job and hence, he was not going to pay me. I was really desperate," she said.
 Chesang says that they rarely report such cases to police since "it is a hassle" and they don't have the time to follow through.
Rose Nafula, a mother of two, told The Nairobian that some of her workmates have given in to the conniving men due to desperation. "This job is our only source of income. Imagine spending the whole day cleaning someone's house then he refuses to pay you. I know friends who have even been impregnated by their clients. Of course they stop hiring them the moment they learn that they are pregnant," she said.
 Nafula adds that some of her friends have even contracted sexually transmitted infections.
 Uasin Gishu County Commissioner Abdi Hassan condemned the act and urged  the women to report such cases to the police.
"We are aware of this. It is however a challenge to pursue justice for the women because many of them suffer in silence as they fear reporting the matter to us," he said.
Hassan added that it is wrong and that the law does not allow individuals to blackmail their workers for sex and promised to take stern action against those perpetrating the crime.
"Forcing someone into an act that they are not interested in is an offence and we shall not let our women, who earn a living from washing clothes, to continue facing such cruelty," he cautioned.