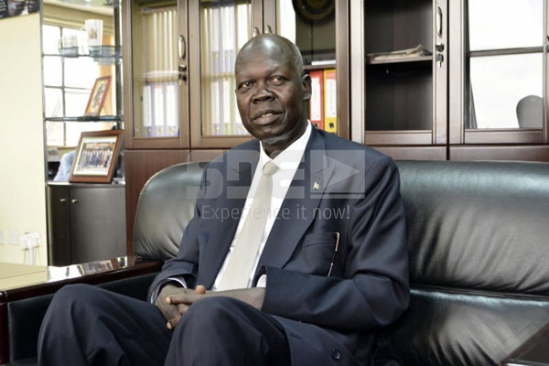 Many Kenyans went to South Sudan in search of economic opportunities when it became independent. But things were not what they seemed. JOHN LAWRENCE spoke to Ambassador MARIANO DENG on among others, why his countrymen are free here yet Kenyans are harassed in South Sudan
The Nairobian recently published a story about South Sudanese sports personalities who want to  play for Kenya because they have waited for too long for peace. What's stand on this?
Globally, sports, as an industry, remains one of the unifying factors, and the games are played to bring people together. Sport is crucial in what we now call sports diplomacy. It bridges the gap and as such, South Sudanese and Kenyans are very close people.
Ethnically and historically, Kenyans and South Sudanese are very close and it is unavoidable that the two nations remain friendly and citizens can settle in either of the countries. However, since South Sudan is still a young nation, I would like to urge them never to forget their motherland.
But there was a time when your office asked those who wished to switch nationalities to first consult the embassy. Shouldn't every individual be left to make his or her own choices?
Preferably, we would like to help because being a citizen of any country is very important in human relations and therefore, it is good to hear ourselves out and listen to all underlying factors first. If in the end we reach a decision, then it is well and good.
There are hundreds of thousands out there who have dual citizenship with various countries in the West. To me, this is nothing new. Remember, we are neighbours in the same region and the more we work and compete together, the more productive we become.
What is your opinion of Kenyans?
I am very comfortable in Kenya. In fact, whenever I take a walk in the streets, no one bothers to ask me where I come from. I love the weather here in Nairobi and I would call it a working weather because it is not very cold, neither is it very hot.
If that is so, then why is it that Kenyans are allegedly being harassed, mistreated and at times even killed in South Sudan?
Most South Sudanese intellectuals and ordinary citizens have strong connections with Kenya and there are so many who have adopted Kenya as their second home. You see, Kenyan democracy has been developing for over 50 years, yet we are just in our third year. This is not going to be a walk in the park.
Our people must now recognise that we are a nation that must leave with their neighbours. There are certain isolated cases of confused people who have not appreciated the progress that we are making, but are by no means a justification because nobody would want such a thing to happen.
Back in Juba, there is no local citizen or government official who can spend more than two or three days without visiting a Kenyan financial institution. There is a very high degree of institutional, agencies and people-to-people integration between South Sudan and Kenya.
It is unfortunate that at times, such a development can bring some kind of isolated misunderstanding. However, there is no reason whatsoever for such incidents to prevail in South Sudan and our national government is working round the clock, not only to reduce such cases, but to stamp out completely any incident of lawlessness.
There are so many Kenyans who run successful businesses in Juba, but there is concern about the high cost of doing business in South Sudan. What is the government of Salva Kiir doing to help and encourage foreign investors?
That was not the case before and has never been the intention, but maybe now the situation could have changed due to the falling global oil prices. Oil prices have plummeted everywhere and by now, it is less than half the selling price in 2011.
That has impacted our economy because our hard currency earnings come from oil, which has seen an increase in the cost of all projects. But there is hope because the government is already working on systems to stabilise the situation. This is all but a temporary setback. I assure you that our government is working hard to improve the situation.
Don't you think that with such challenges, the analysts who opine that Juba is not ready to survive on its own are right?
Juba is working well and we are moving forward. Juba is the capital of an independent country and as a matter of fact, economic relations in particular affect both Khartoum and Juba so, that claim is not justified. We trade with Sudan because we have mutual interests and similarly, we are coming to East Africa where we are also connected linguistically, socially, educationally and culturally in so many ways, not to mention proximity.