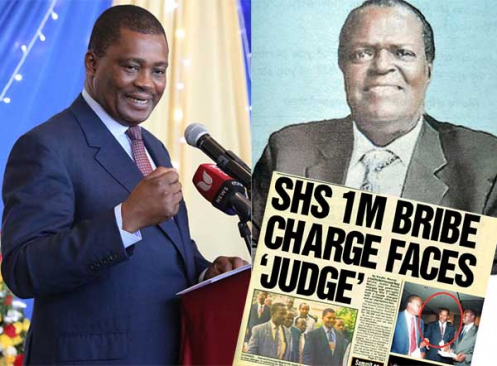 Masaba Hospital founder Dr Geoffrey Joel Momanyi who 'terminated' the career of House Speaker Justin Muturi when he was a magistrate died a few days ago after 'a long illness.'
Dr Momanyi and his late wife Fellgona Akothe Momanyi tormented Muturi, then a Principal Magistrate in Nairobi when they accused him of soliciting a Sh1 million bribe from them to sort out a criminal case they faced before him 19 years ago.
Muturi who started off as a district Magistrate to a senior resident Magistrate was challenged by the couple in a Nairobi court and by the time the court acquitted Muturi in the late 1997, his decades-long career was over.
The Judicial Service Commission (JSC) did not reinstate him forcing him to venture into business and elective politics.
It all started when Dr Momanyi and his wife were arraigned before Magistrate Muturi on July 28, 1995 on charges of defrauding the National Hospital Insurance Fund (NHIF) Sh347, 000. At that time NHIF had lost about Sh2 billion to fraudsters.
But the couple allegedly recorded Muturi on a tape negotiating the deal.
Muturi denied that on different days between August 1996 and 1997 he corruptly solicited for the said amount as an inducement to acquit or assist the accused couple in the criminal case No. 2782/95 which they faced.
Before the Nairobi Senior Principal Magistrate Uniter Kidullah, Muturi pleaded not guilty and dismissed the accusation as fabrication. "I am not guilty to this most fabricated, malicious charge by the accused" he told the court on March 20, 1997.
Muturi was represented by the late SK Ndungi and Onyango Otieno and others. He was released on a Sh300, 000 bail and was ordered to deposit his passport in court and other travel documents.
That set the beginning of a fierce court battle between him and the Momanyis. The court was told that Muturi used his clerk Florence Ogutu to solicit bribes from the couple. The clerk testified that the couple had approached Muturi pleading to be assisted in the fraud charge.
Before another Magistrate Momanyi's wife admitted that a tape recorded conversation was her and Muturi discussing the deal. Muturi was acquitted in late 1997.
Then prosecutor Senior Superintendent Jonathan Mwalili appealed against the ruling, but the matter did not proceed any further.
Muturi was however not given back his job and he opted to start business then joined parliament through a by-election in 1999 occasioned by death of Siakago MP Cyrus Ita. He won the subsequent polls in 2002 but lost the 2007 and 2013 polls before he was elected Speaker of the Parliament.
Dr Momanyi passed away on September 28, 2015 and was set to be buried on October 9 at his rural home in Nyango'ge, Nyamira County. The Momanyis owned Masaba Hospital along Kirichwa Road, Nairobi and Chulaimbo Hospital in Kisumu.