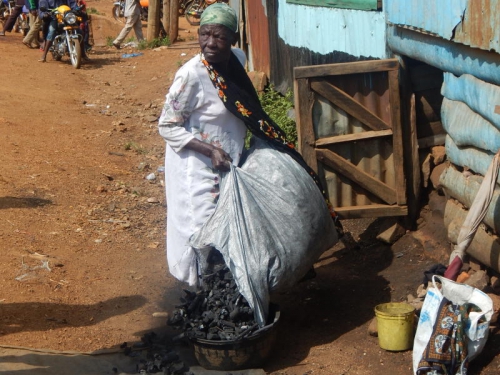 Mama Hawa Auma (pictured) wagged a finger and turned in her seat. It wasn't the best Saturday afternoon for the 73-year-old, tough-talking charcoal seller.
The mere mention of President Barack Obama and his July trip to Kenya was causing her agitation because despite being Obama's paternal aunt, her 'ancient' house could cave in and she continues being ravaged by poverty.
"I don't know what wrong or crime I committed in this world to deserve such a life. I don't know who can bear this pain. It is painful," the mother of two told The Nairobian.
Hawa, the younger sister to the mercurial Barack Hussein Obama Senior is also unhappy with some members of the family for blocking her from the US president and benefiting from resources at home in Kogelo.
Sh200 per day
At Kokal Kambero Village, Kasipul Constituency in Homa Bay County, the aunt to the world's most powerful man is distraught, only surviving from selling charcoal in the streets of Oyugis town.
The granny struggles to speak and is easily overcome by emotions. She regrets the kind of life she has led despite her blood relation with President Obama.
Since the demise of her husband, Amuna Magak in 1993, life became unbearable and she ventured into selling charcoal in Oyugis in order to make ends meet, she says with a tinge of bitterness. The business used to earn her up to Sh200 per day but not any more.
Deforestation and government controls have made charcoal a rare commodity in the county. When charcoal from far-flung areas such as Narok reaches Oyugis market, it is bought for about Sh1,500 per bag, which Hawa cannot afford, forcing her to sell the locally made charcoal.
"Though I had a dark complexion, the charcoal business has made me darker because I handle charcoal from morning to evening and leave nearly with nothing to take back home," Hawa says.
Help from well-wishers
The granny who says she now survives on money from well-wishers, lives on a half an acre piece of land which comprises her homestead and a farm, where she grows maize and beans which cannot sustain her family.
Her other worry is that her house, which was built by well-wishers, is also on the brink of collapse.
"This house was built by well-wishers. Now, I don't know who will build another one for me," she adds.
Hawa never went to school. Her two sons, Rasik Magak and Musa Magak are jobless after they dropped out of school due to lack of fees.
"I hustle working at a bus station, but I am not sure of earning something on a daily basis. My brother is a casual labourer at a construction company. None of us has a reliable source of income," says Musa. Hawa is now banking her hopes on President Obama when he comes to Kenya.
Appeal to Obama
"I appeal to my nephew to build me a house and help me open another business which I can run to improve my living condition. At my age, I shouldn't be selling charcoal because I am also sick. President Obama's father is the one who bought me the first shoes.
I appeal to my nephew to intervene and help like his father used to," she says, adding that some people in the family have blocked her from getting any aid from Obama.
Funds for the old
Samuel Owida, a neighbour, says Hawa should be getting support from funds the government gives to senior citizens.
"This woman has no hope in life because there is nobody to take care of her when she is sick. I want to appeal to both Mama Sara Obama through her foundation to intervene," said Owida.
However, Mama Sarah Obama says Hawa should seek audience with Obama on her own if she wants assistance.
"I know her, and I am the one who brought her up. I urge her to work hard and get resources for her livelihood. She can consult her brother's son to get the aid she requires," Sarah told The Nairobian.
Hawa's father and mother Abiba Akumu and Onyango Hussein Obama, first lived at Kanyadhiang' village in Karachuonyo Constituency before they moved to Alego Kogelo in Siaya County in the early 1940s.