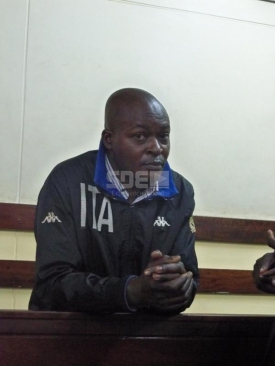 On the night of June 8, a city woman lay dead in Buruburu Phase 5, allegedly strangled to death 'out of love' by a jealous husband, who suspected she was having a thing on the side with another man.
According to police, Paul Odhiambo, 40, a manager at a posh hotel in Lavington, is alleged to have killed Agnes Nduku, his 'second wife' and mother of a ten-month-old baby, by strangling her with an iron box cable shortly after dinner.
Odhiambo later surrendered to authorities at the nearby Buruburu Police Station and reported that he had killed his wife 'out of love'.
According to Buruburu police boss Henry Kiambati, the fight was sparked because Nduku did not pick Odhiambo's calls during the day.
Police say when Odhiambo failed to reach his wife, who claimed to have gone shopping, he came home at around 7pm only to find her missing yet she had promised to stay at home the whole day.
When she came back around 9pm, the two had a heated argument with Odhiambo demanding to know where she had been and why she had not been picking his calls. She went to the bedroom at 10pm and her husband followed her half an hour later.
Police say Odhiambo peeked into her phone in the bedroom and they suspect that possibly the contents of her phone could have led him to accuse his wife of infidelity leading to the tussle during which he strangled her to death.
Odhiambo was arraigned in court on June 18 but he denied before Nairobi court that he killed his wife Agnes Mwikali on June 8 at their Buruburu home.
His case was mentioned after a seven-day request by police to investigate the matter.
Detectives have been holding the suspect since June 11 to complete their probe which included taking Odhiambo through several tests including mental health evaluation. He was declared fit to stand trial.
It is alleged that Odhiambo strangled Mwikali using an iron box cable after arguing over infidelity.
Odhiambo's lawyer told the court that his client has had medical complications since 2001 and he has even been to a mental hospital following the medical condition. The matter is set to be heard on January 26 and 27 in 2016