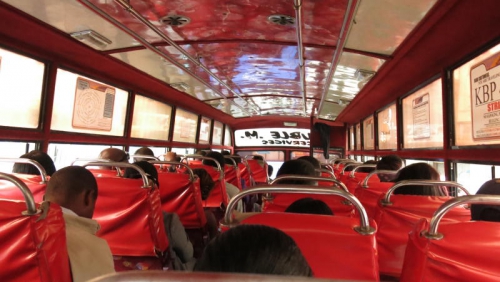 Do you feel an itchy, irritating bite whenever you are in a matatu?
Or suffered a red patch on your skin that you can't quite fathom where it came from? Well, you could be suffering from a bedbug bite!
Investigations by The Nairobian has revealed that many matatus, especially, those plying Eastlands route have bedbugs. " I live on Ngong Road and I once boarded a matatu to Kasarani. At some point, I felt itchy on my arms, but I shrugged it off. However, I saw a bedbug crawling on my thighs. I was terrified," Anne Wambui told The Nairobian.
 Some of the matatu touts who spoke to The Nairobian claim their vehicles are clean and well-maintained, and it is the passengers to blame for the bedbug menace.
  "Hii shida ya kunguni iko, na watu wa Nairobi hawajaelewa. Sasa inasambaa kwa matatu," (Nairobians have not understood the bedbug problem. Now, the bugs have attacked matatus)," Joseph Kamau, a matatu driver plying Jogoo Road said.
Another driver, David Mutuku plying Lunga Lunga route says the bedbug menace is on and off.
"Many passengers fear pointing fingers, but they communicate by boycotting the mathree."
Njoro wa Njahia of Mathare says they have tried to eradicate the bedbugs.
"These bugs are there and we spray the matatus from time to time. Unfortunately, they still come back."
Matatu Owners Association chairman Simon Kimutai said he is not ruling out the problem.
"Even if rules or laws are set, how do you force people from different walks of life to maintain individual hygiene?" he says adding that, "We have been advising our staff to maintain very high standards of cleanliness."
Nairobi County Public Communications Director Beryl Okundi urged every matatu or their Saccos to maintain high standards of cleanliness.
"We don't directly deal with public health and it is the responsibility of every vehicle owner or Sacco to ensure they maintain high standards. We only advise them for instance on the right treatment to fight bedbugs," she said.