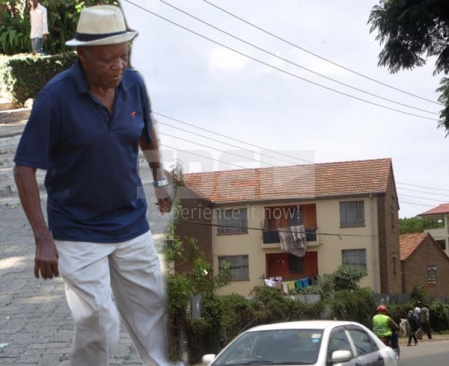 Veteran footballer, Joe Kadenge may lose his house in Mariakani estate in South B, if the Kidero administration fails to save the estate that is marred in controversy.
The 80-year-old ex-player, famed for the Kadenge na mpira shuti goal chant, was the first resident of the 51-year-old estate.
However, claims that the defunct Nairobi City Council sold the estate to the Local Authorities Provident Fund (Lapfund) to settle debts have left him and other residents confused about their future.
"Where do they expect me to go to at my age? We have lived here for decades. I entered my house No.78 in November 1963. Other residents joined me from December 1, the same year. This is my home," Kadenge lamented.
"Evicting us would shatter our lives. My life would not be meaningful anymore. I would feel like I have nothing in this world after all these years. Don't be surprised if some people commit suicide." Kadenge told The Nairobian.
The defunct city council allegedly transferred the estate to Lapfund in 2012 to settle a Sh1.2 billion.
The Public Accounts Committee (PAC) has however disputed the value of the estate and the manner in which the transfer was made, with PAC chairman Robert Mbatia, terming the transfer a breach of law. The deal to transfer the estate was allegedly signed by then town clerk Roba Duba (Now Moyale MP) on February 18, 2013. Duba however denied signing any documents when he appeared before PAC early this month.
Philip Kisia who was succeeded at City Hall by Duba, who earlier worked as Lapfund CEO, told The Nairobian he had cleared the Lapfund debts.
"Our arrears with Lapfund was Sh1.4 billion, but they waived Sh350 million, so we cleared the remaining Sh800 million. I left City Hall having cleared the whole debt," Kisia claimed.
The current Lapfund CEO, David Koross, appeared before PAC on April 1, and promised to table the transfer and ownership documents.
About 1,200 residents have been asked not to pay rent to Lapfund until the matter is settled. The controversial estate sits on a 10-acre piece of land and has 240 three-bedroom units.