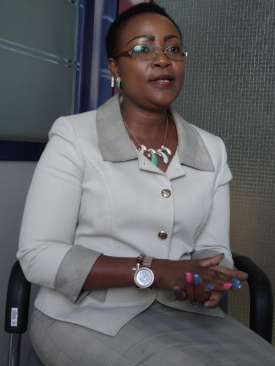 At only 19, life happened for Taita Taveta Women's Rep. Joyce Lay opened up to John Lawrence about her teenage pregnancy, suicidal thoughts and how husband Bill turned her life around
How was it growing up in rural Taita Taveta?
I was born in a small village called Mariwenyi in Mwatate, Taita Taveta County. As I child, I walked through the path of poverty. From the days of sleeping hungry, going to school with no shoes, having only one dress that I used to wash at night and wear in the morning. Do not ask if I had a panty or not. I remember wearing my first shoe when I was being admitted to Form One.
What memories do you have of your childhood?
I am a village girl who went to Mariwenyi Primary School, but I could tell right from my early age that I did not want to live such a life. That is why I excelled in class. I grew up not knowing the love of parents because my father was an Administration Police officer who was always away and whenever he was home, it was not always rosy. He beat up our mother frequently that when I got pregnant, I could not face him.
What was your father's reaction?
Well, I gathered some courage and broke the news to him then he told me in my face that I was no longer his child. At that point, my world came to an end. I left home, picked a rope and I headed to the bush ready to commit suicide. Luckily, my little brother saw me and he knew what I was going to do. So, he quietly followed me and managed to stop me (breaks down in tears and sobs uncontrollably). To this day, I am glad that my father gave me a second chance to go back to school and agreed that I must continue with my education. He believed in me and this became my drive.
Did your mother support you and how did you juggle school with motherhood?
My mother remains the pillar of our family. Even at my most trying moments, she stood by me and encouraged me. Even after raising us, she was still ready and willing to help me raise my son. She loved him (sobs).
Where is the baby daddy?
I had a teen lover whom I met during my school days in the village. I would not share the exact details because I cannot even tell where he went to or where he is today. Like I said, my father was a no-nonsense person so, immediately word went round that I was expectant, my boyfriend took off and I have never seen him again.
Please narrate the events leading to your son's passing...
I remember I was in school but we had come to Nairobi for a trip when I had a phone call from my mother through one of the teachers telling me that my young boy was unwell. But things happened so fast because the following day, I received the sad news he had passed on. The doctors said he could have suffered from severe yellow fever, but my mother suspected poisoning probably from the playground.
Did you ever get over the death your son?
Not really, his death dealt me the biggest blow. I was only 19 then and here I was thinking about things like peer pressure having been born in the village where a young lady did not have to carry an unwanted pregnancy. I had the choice of abortion but I did not take such nonsense because I wanted to raise my baby but he did not live to be.
At some point you dropped out of school?
Yes, by the time I went back to school my father suffered a stroke. He got sick, paralyzed and he remained bed-ridden for a long time. I remember visiting him and while on his hospital bed, he encouraged me to go back to school.
He told me, "Go back to school because when I die, you will take care of the family." That left me shocked and confused because I am just but the seventh born, how did he expect me to take care of the family.
But just when I got back to school he passed away. So, in one year, I lost my father and my baby. And I could not continue with my education because there was no one to pay my school fees.
So, I went to Mombasa to work as a house help to raise some money for school fee. Then I moved to Nairobi where I got a job as a sales girl promoting some of the Unilever Company's products. That is how I raised money and registered as a private candidate for my Kenya Certificate of Secondary School Education (KCSE) examinations.
How did you meet Bill (Lay)?
After school, I was employed by Advocate Duncan Mwanyumba who was running two businesses; one was his private investigations firm and the other an events firm. At the events firm we had a band which used to play at various functions for corporate firms.
wanyumba had a cousin Ben Mushila who was the Human Resources Director at General Motors the company that I remember invited the band to perform during an event to honour the 1998 Bomb Blast Victims. I attended the event on behalf of Mwanyumba who was not in the country.
During the event Mushila introduced me to 'his friend' from Australia whom we only spent a few minutes with. But later I came to learn that Bill had seen me earlier and talked to Mushila about it. He even gave him my number.
So I remember receiving a text saying, "Hi, am Bill Lay..." I was not comfortable with it so I innocently asked Mushila why he gave his boss my number and why he was sending me text messages. I texted back and with time, one thing led to the other.
How has it been with Bill?
Bill is a great person. There was a time when I was experiencing intense lower abdominal pain but could not afford  treatment. With his help, I went to see a professional gynaecologist who proposed that I cut off my fallopian tubes because I had developed an infection that risked turning cancerous. I was again faced with one of the toughest choices of my time but even after the surgery, I still experienced pain and haemorrhage.
Bill stood by me even when I was an embarrassment. He was by me when we could not even enjoy conjugal rights and through a second surgery to remove my uterus.
Did the fact that you may never have children affect him?
Bill coming from past relationships had children and he told me that saving me was the most important thing. It was not  smooth sailing and I went through lots of emotional torture, but hang only on God. Here I was a young girl who had lost her teenage son and now I could not give birth again.
Did you ever consider adopting?
We started toeing around adoption and all the other ways that could get us a child. So, one day I bumped into a friend who told me about doing an IVF but instead of me carrying the baby, we get a surrogate mother.
Luckily enough one of my friends agreed to be our surrogate. But doctors dashed our hopes when they said she was overweight and was also hypertensive. As I was talking to my pastor about my tribulations, his wife who was listening readily accepted to carry our baby. We went back to the doctor, the tests turned positive and we became parents to a bouncing baby boy.