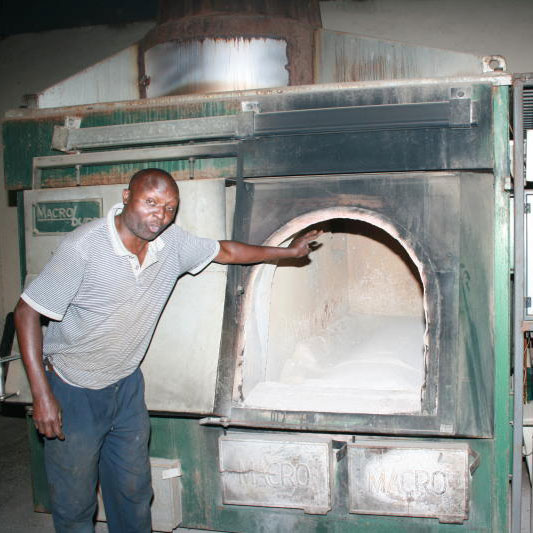 A worker at the Hindu Crematorium Mwania Musyoki shows a machine used to cremate bodies is on Tuesday,August 09.PHOTO:COLLINS KWEYU
Residents of Nairobi could soon be forced to seriously consider cremation instead of burying their loved ones.
And many Kenyans still remember that Lang'ata Cemetery was declared full by the then Nairobi City Council in 2008.
This in essence means that bodies buried on the temporary side of the cemetery are interred on top of earlier graves.
It is also common knowledge that an effort to get an alternative site in Mavoko in 2010 exploded into a Sh300 million scandal involving senior council officials at the time.
And so, Kenyans are now embracing cremation, a means of disposing dead bodies that was considered taboo by the traditional beliefs.
Muljibhai Pindolia, the President of the Hindu Council of Kenya, told The Nairobian that, "The reason people are increasingly turning to cremation may have to do with the simplicity of the process and economic factors like land."
Pindolia added that, "As we all know, Lang'ata Cemetery is full, and it's difficult to get space, especially on the permanent graves side."
Indeed, many prominent Kenyans have been cremated over the years, including Nobel laureate Prof Wangari Maathai in 2011, former cabinet ministers Kipng'eno arap Ng'eny and Peter Okondo, Archbishop Manasses Kuria and his wife, as well as sports administrator Joshua Okuthe.
"Cremation is becoming very popular among non-Hindus in Kenya today," Pindolia revealed. "The Hindu Crematorium cremates around 10 to 15 non-Hindus every month, which is a sign that people are taking it up as a method of disposing the bodies of their loved ones," said Mwania Musyoka, who has been an attendant at the Hindu Crematorium for 18 years.
Interestingly, according to Musyoka, "The Kikuyus are the ones who mostly cremate their dead."
The exposure of Kenyans to different cultures, coupled with environmental conservation initiatives and scarcity of land are some of the reasons people no longer balk at cremation.
It is mostly more acceptable amongst educated and well-off Kenyans, as opposed to the majority of the so called lower-class who view it as alien and un-African.
Fire and diesel is all you need at Hindu Crematorium and for Christians, there is no answer in the Bible, which is silent on cremation.
Jesus Christ in Luke 59-60 could be said to have even considered burial ceremonies unnecessary in the declaration that, "Let the dead bury their own dead..."
At the Hindu Crematorium in Ziwani, Nairobi, bodies are 'fired up' in a diesel-fuelled furnace located inside a temple-like structure with the altar bedecked with statues of Hindu gods.
In Hindu tradition, bodies are placed on pyres and "the wood has to be carefully arranged to ensure the bodies burn completely while using the minimum amount of wood, which could be as much as 10 to 15 thick logs per body, that is about three-quarter tonne of wood," Pindolia explained.
"Unlike the diesel furnace, wood is slower and takes about two and half hours to burn the body completely into ashes," he added.
The burning chamber of the diesel furnace occupies what would have been a vestry if the building was a church.
"Family members are usually given the opportunity to switch on the machine. At this point, many of them break down emotionally," Musyoka told us, adding that, "We stay away from the ceremony, only coming to observe whether they have placed the timber correctly. We have a priest who is stationed here permanently to conduct prayers. But the burning is done by family members."
While some people would take the ashes of their beloved, others don't. The wood is arranged in such a way that the body is tightly confined within thick logs to ensure total and complete consumption by flames.
The pyre is sprinkled with ghee to suppress the smell of burning flesh and ensure the body burns completely. According to Musyoka, one body can use up to 15 kilos of ghee. He revealed that 15 to 20 bodies are cremated weekly at the crematorium.
But where do they get all the firewood?
"The timber is donated by members of the Hindu community who are in the construction industry, usually after they cut down trees in new sites. But in case of shortage, we usually buy from wood suppliers," Pindolia said.
"To run the crematorium, we need money, since we have eight members of salaried staff. This is why we have to charge for the services," Pindolia explained.
Cremation at the crematorium costs Sh40,000 for non-Hindus regardless of whether it is done using wood or diesel. For Hindus, the charges are Sh18,000 (using wood) and Sh24,000 (using diesel).
The crematorium was at one time threatened, when "in the 1960s some politicians wanted to grab the land on which it stands by inciting the then minister of environment Joseph Otiende with claims that burning bodies was a health hazard to the neighbouring community," Pindolia recalled.
"We as Hindu community demanded scientific proof that burning bodies is harmful. Otiende later declared that there was no proof that cremation was a health and environmental hazard, and that is how the facility was saved," added Pindolia.