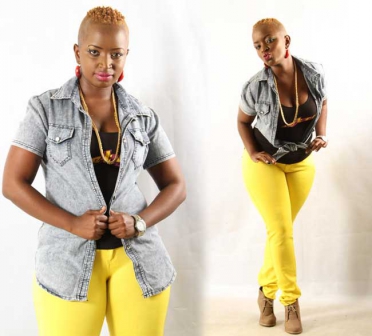 Unlike most of her peers who seem to have sunk into a musical abyss never to be heard or seen again local musician Wambui Kimaru makes a return in the musical scene after three years in the cold.
The female singer who begun with Calif Records as part of Calif Angel's alongside Ratatat and the late Lady S  is back with a new single Sigawi produced by BVB.
"It was just a matter of time before I prove my critics wrong by springing the surprise when they least expected it.
The fact that I have been silent doesn't mean that I was out. For me music is a long journey which requires adequate time and research in order to come up with something of good quality that will be appreciated by many," she says.
According to Choku her latest release Sigawi is unique and different from the songs she has done in the recent past among them Ndani Ndani and Utatabasamu just to name a few.
According to her the song inspired by daily life happenings, things that we know but for some reason refuse to talk about is aimed at educating and entertaining listeners at the same time.
 "Sigawi is based on realities of life within our society where people opt to sell or buy love at the expense of true love which in most cases ends up having bad consequences," she says, adding that owing to its scintillating beats and powerful vocals it is something one would love to listen to over and over.
To prove her intent Choku is headed to Coast this weekend for a grand concert dubbed the Return of Choku – Sigawi Tour aimed at promoting her latest single.
" It is one event you cannot afford to miss out on. I will ensure that my fans are entertained to the fullest. I also intend to use the opportunity to churn out some of my favorite songs including latest dance styles," she says.
So then is it true that she took a break from music owing to an acute sickness that threatened to cripple her showbiz life as recently reported in one of the local entertainment magazines?
Choku sees this as a ploy by a section of her haters to tarnish her image and music terming it untrue.
"I have never been down with any illness. I was equally shocked to read about the allegations that were written about me without my knowledge nor consultation," she says adding that contrary to the reports she has been busy doing her new business after she quit working in a banking institution.
The singer who started out with Calif Records under producer Clement Rapudo aka Clemo has been in the music industry for a decade now.
Her first song dubbed Pole with Jua Cali was well received. She also featured in Kilio with the late Lady S and Rat-a-tat as part of Calif Angels. The latter was a dis track aimed at getting back at Lady S's ex boyfriend after parting ways with him. However, it was not long before the two got back together when they were involved in a grisly accident that saw Lady S's life cut short at the peak of her music career. 
Prior to this she took a break from her career in music to develop more skills in the art, and also to set up a new business. During this time, she was also working for a Kenyan Bank.
The singer attended Moi Educational Centre before heading to Nairobi's Pangani Girls High School, after which she proceeded to the United States International University.
For Choku who has been engaged to a white man for some time now, the sky is the limit.