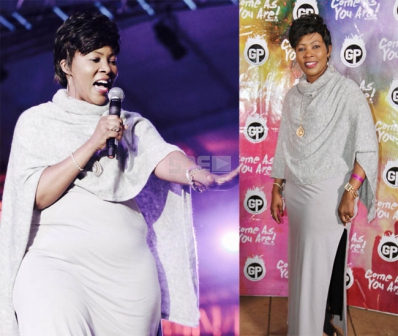 Fast rising local gospel queen, Janet Otieno reveals the unknown side of her life, music and the secret to her success writes CAROLINE NYANGA
With an easy smile that lights up her oval face, revealing her beauty and sparkling white teeth, gospel singer Janet Otieno takes her eyes off her phone to acknowledge my arrival by slightly tipping head, accompanied with a warm welcome hug.
With a cheery "it's good to see you!"  that could have been aimed at long lost friends, I am instantly taken away by the fabled Janet charm.
Fondly referred to as a minister of God by some of her fans, Janet comes across as down to earth. The Kenyan songstress who hails from Nyakach, Kisumu County, displays lots of confidence but little sign of the hubris associated with superstars who play in the big league.
Looking fit and relaxed, the lady in her mid 30's with over 17 songs under her belt seems to have lost none of her flamboyant sense of fashion.
When she walked into the Standard Group offices recently dressed in designer Ankara attire with generous golden embroidery, a chain and brown leather shoes, Janet showed just why she remains among the quintessential "high priest" of hundreds of local gospel fashion aficionados.
Fashion is part of me, she says with a warm smile when asked about her fabled love, nay obsession, with fashion.
But that is not all, the 2014 Groove award nominee in three categories has once again proved that she is still among the best gospel musicians by securing nominations for Song of the Year and Female Artiste of the Year - during  the 10th annual Groove Awards celebrations to be held this Saturday.
"I thank God, my family, the media and everyone out there for their immense support. I want you to know that when the favour of God comes upon you, no one can stop it because through Him everything is possible," says, the musician who has been in the gospel industry for two years now.
But this aside Janet whose 10-track audio album titled Neema and another seven- track visual Napokea Kwako attributes her success to doing the right thing.
"It's unfortunate that most local gospel musicians are not willing to spend the right amounts of monies in order to come up with quality videos including audios for the glory of God, yet they still expect to be blessed by the same God," says the musician who has worked with several music producers among  them Robert Kamanzi, Timothy Boikwa, Teddy B, Billy Frank the list goes on
But like many successful singers out there Janet's fast rising fame has had its own shares of controversies.
Although a section of critics are of the opinion that she may have bought her way to success considering her fast rise to fame, with others pointing out to her good looks as having favoured her over fellow musicians, unmoved, she simply terms their claims as baseless and a ploy to finish her through bad press.
The musician who has performed in several countries among them Tanzania, Democratic Republic of Congo and 15 states in the US, admits that people will always find something negative to say especially when you are doing well.
 "You cannot stop people from talking about you dead or alive and that is something I have had to live with. Even Jesus Christ was hated on and challenged by many, so then who am I not to experience the same especially now that I am doing the right thing and taking into consideration that the favour of God is upon me," says Janet who describes her music as a call and ministry. 
Janet whose role model is Apostle David (in the Bible) and Tanzanian gospel singer, Christian Shusho says her music is inspired by the Bible teachings including things that take place within our society but are afraid to talk about for some reason.
Challenges:
On challenges facing her Janet describes them as part of life but points out that it is important to figure out the source and find a way of dealing with them the best way possible.
Citing social media as one of the factors that have a tendency of spreading incorrect information about her - she says she has since learnt to ignore them.
"The fact that I know the truth (Jesus) and the truth always sets me free hence I have nothing to worry about."
And on the issue of male fans throwing themselves at her including  stalkers - Janet says always finds a polite way of dealing with them besides letting them know that she is married.
"They need to hear the word- and that is why it is important for me to try and understand them besides using the best means possible in order to change their lives besides drawing them into the kingdom of God."
Janet also points out that there are situations where different people tend to give their opinions regarding her songs and how to go about them, something she has learnt to take positively.
"I take time to listen to them and see if their opinion are of benefit to me before I can decide the way forward since no one is perfect," she says.  
Then slowly our conversation steers towards local gospel music that has been commercialized and reduced to stage presentation with many musicians in it for money. So then, where does she fall?
While admitting that it is happening and not a good thing which she does not support, she is however quick to point out that it is important for people to understand that at the end of the day gospel musicians who are doing it for ministry purposes have responsibilities which include paying their bills among other things. 
 "You cannot be in the industry without the ministry. Since as much as the message is relayed to different people out there –but it is important for us to realise that at the end of it all – there is judgment day. This is when the farmer (God) will separate the chuff from the harvest hence the need to strive for the best according to God's will," she says. 
To Kenyans she says: "God has deposited something unique in each and every person- all you need to do is search within yourself in order to find it and make the best use of it. No one is useless so as to speak.