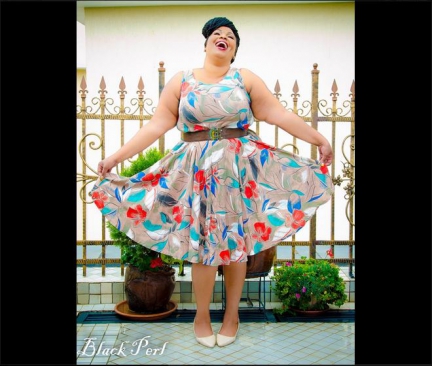 By Sheila Kimani @sheilakimm
At her 'Plus fabulosity' unveiling and media launch last weekend at the Stanley Hotel, Neomi looked stunning. She represented a woman who had traversed odds to become a role model not only to plus size girls, but the society at large.
Besides hosting the morning breakfast show at One fm, her acting roles have seen her featured in several movies and most recently, her modeling prowess has seen her travel around East African fashion shows.
Born and raised in Eastlands, Huruma estate, Neomi the last born of eight children had fun growing up as the only daughter while her seven brothers kept tabs on her.
For her education, she attended Sunflower group of schools for her Primary and Secondary school level of education during which her talent in arts bagged her the Best female actress at the National Drama Festivals.
In the quest for higher education, Neomi admits that her 'undecided' nature saw her do an array of courses most of which she never completed "I did more than 5 different courses in campus but going forward, I plan to pick one and focus on it up till graduation."
It was during her campus years that she took a friend for play auditions only for her to land the role. This was the beginning of a journey that had her perform set book plays in different Kenyan Secondary schools.
Fortunately a film maker saw her in town and suggested a screen test for her. A test that landed her role on "wash and set" one of her early television roles that transitioned to jobs on other movies, series and plays like 'Fundimentals', 'Demi gods and  'Noose of gold'.
At the same time she was invited do voice-overs at One fm where she landed a role as a radio presenter soon after.
Today, she wears many hats and has continued to mentor young ladies. On her new website Neominganga.co.ke, she gives motivation and narrates the daily story of her life. For this reason she is our WCW.