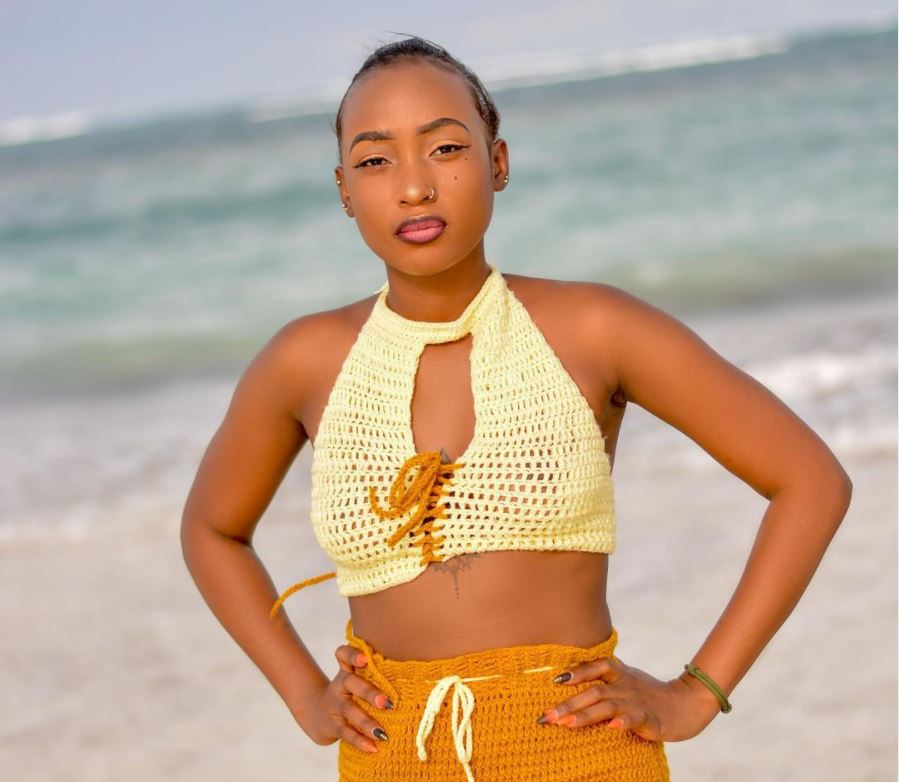 Kilifi-based multimedia journalist Fatuma Ramadan found a passion in hand-knitted crocheting. Her trade has allowed her to build a profitable business, work with celebrities like Gilad, and become a brand ambassador for tourist information organization This Is Kilifi. 
1. You have been in the hand-made knitting business for five years now. How can you say you have grown through the years?
This may sound a little farfetched but I mean it fulheartedly when I say that crocheting has helped me realized the potential I have at being able to live and lead a creative life. I'm slowly learning that you really can do anything you set your mind to as long as you put in the time, effort, and passion into it. 
2. You found a niche in crotchets. What inspires your pieces?
I think it's important to use your talents to express your love for people in your life. Everyone that I'm close to (and a lot that I just care about) has something that I've made.
3. Who would you say is your main clientele?
I create for everyone. I don't limit my creations for just a certain group of people. For highlights, I Knit Kenya was featured in Gilad Millo's Swahili Girl and Masauti's Deka music video, so I'm branching out, and I'm ready to explore my full potential.
4. What do you think separates you from your competition?
I think most of the crochet done here is geared towards tourists with the Rastafarian/ Jamaican colors, and I don't think there is much variety where crochet (swimsuits especially) are concerned. I pay close attention to texture, detail, and functionality, so my aim is to give customers that variety, wearability, and quality I was looking for.
 5. What kind of challenges do you face in your business, craft, and general dealings?
In terms of challenges, it's just finding the time and money to do everything I want to do. I can't stress enough that crochet is not a lucrative business because the production takes so long. Marking up with the standard percentage would mean a designer price tag, and the pieces would not be affordable to your average person, so I've steered away from that. I spend so much time and money on photo shoots, social media, designing, making samples, promoting etc. – so many hours of work that I do not get paid for, so you have to love it to not become demotivated and stop altogether.
6. What are the price ranges for your designs, and what informs how you price them?
A crochet top sells from as low as Sh1500, and it depends with the time and material I put on the crochet piece, but my pieces are overall affordable
7. In terms of production, where do you source your material from?
Sourcing materials in Kenya is not an option for me. Some things here, they're limited so I usually have to order all of my materials online and have them shipped in which is usually a three to four weeks process.
8. How do you approach marketing your products?
I don't do a lot of marketing for my products. I let my work speak for itself, and that is just it
9. Does your work require you to employ people (if yes, how many), and how do you coordinate the work from logistics from production to accounts to distribution
I work alone at the moment. I go to college during the day and crochet at night. Helps me relax a lot. I have been thinking about getting someone to help, but that thought is still in the works
10. Is the knitting entrepreneurship a good source of livelihood?
Yes. It's just that it's time-consuming, but if you put in the work, you should comfortably get by
11. What advice can you offer someone that wants to get involved in the business?
Start creating, now! Something, anything. It's better than sitting on your couch comparing yourself to others. Your craft will get better in time. 
12. What are your ambitions for the brand currently?
Making more than swimsuits. I want to get into loungewear, beachwear, accessories, etc., once I get another pair of hand or five.