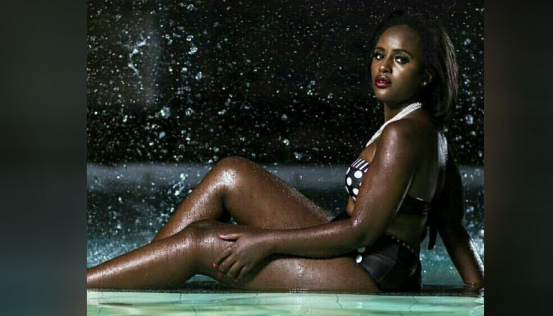 SDE: What triggered the track Pilau Njeri?
It is a dis track directed in particular to upcoming rapper Njeri and a wakeup call to the local female rappers who are unheard of let alone seen. Mine was to put Njeri in her rightful place after she decided to do a dis track which was uncalled for directed at me after I refused to collabo with her.
SDE: After releasing the dis track Pilau Njeri what were your expectation from the local female rappers?
Well, after waiting  in vain for their 'replies and so did Kenyans in general, I was forced to drop Jah a continuation to Pilau Njeri since I have a brand  to build and a  fan base to entertain. Nevertheless, I can only hope that they are able to keep up with the momentum.
Besides the song has helped build their careers although some of them have opted to write what I would describe as phone text messages as opposed to going to the studio and show us what they are capable of doing.
Sosuun in particular should not waste her energy sending messages on social media as she has done but rather do the right thing by going to the studio and releasing a better track.
In the meantime, I also dare all of them to do a reply dis track mentioning my name just as I have done because that is what entertainment is all about.
When they do better songs that is my happiness. This is a wakeup call, to female femcees in a male dominated industry. 
 SDE: What is your take on local female rappers?
It goes without saying that they are in slumber land besides lacking consistency. At a time when I am busy recording at the Coke studio and performing at the much hyped Sportpesa event I guess they are still busy doing small competitions like ciphers.
This aside I am scheduled for a huge concert dubbed Jameson Live come December 3  during which I will be performing alongside renowned rapper Tinie Tempah, and Kenya's top musicians Wangeci and Dela.
 SDE: What do you hope to achieve?
I want to go down as a legend to fill the gap created by local rapper Nazizi since no one has ever been able to do so.
SDE: Who are your role models and what inspires your music?
Locally my role models would be Nazizi, X-tatic, Rabbit and Khaligraph while internationally Chance the rapper and American Young MA rock. I am inspired by listening to lots of music, doing research and improving my skills now and then.
SDE: Why does Njeri deny ever calling or talking to you saying it was her management that approached you on the collabo which never worked?
Truth is, Njeri called my team and was begging for a collabo – (underline the word begging) and I told her that she needed to up her skills, that is when she caught feelings – instead of catching a bus and decided to do a dis track directed to me.
Meanwhile, I sat back watching, listening before deciding that enough is enough.
SDE: In your opinion does beef help?
Yes, it does help – it is a wake-up call for all the local femcees not to mention female singers.  People need to be entertained – Pilau Njeri has plenty of views and that is what people need.
SDE: What of allegations by Njeri that you don't write your own songs?  
Well, for your information I do write my own songs.  Nevertheless, I see nothing wrong for an artist to seek help from well-established songwriters if need arises. After all that is why they are there- to assist.
 SDE: What makes you different from the rest?
I believe I am unique in the sense that I am capable of putting something new on the table something which others have not been able to do so. Instead they tend to sound or imitate other artists which is not a good thing.
Creativity and originality speaks volume about an artist. Unlike them I was mentored by a rap legend.
SDE: What are your future plans?
I plan on releasing my next song in early December. So far I have six videos it is just a matter of time before I can release them.
SDE: Who do you see yourself in say three years' time?
I will be the top local rapper (not female rapper) but rapper in general since I am competing with male rappers.
SDE: Last message
Either you go hard or go home. This industry doesn't need humility, (that can only apply to gospel singer Bahati). One needs to be aggressive in order to succeed and prove your critics wrong.