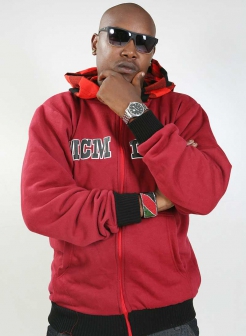 Accomplished low- profiled hip hop hitter, Kevin Ambalwa 29, aka Kavyo Kforce recently launched his latest EP Namba Nane 808. His new music is currently enjoying unmatched airwaves locally and beyond.
SDE: In one of your recent updates you mentioned you are an international artist?
KK: By now you are already aware that my music has achieved international recognition. This aside I am working on a number of projects with US based producer Deejay Kilbill – Kenya's VJI based in Los Angeles not to mention my new song Iz u down with Khaligraph off my EP, produced by Croco Beat and ZJ Heno of Homeboyz.
SDE: Tell us more about your album?
Kk: The five track EP Namba Nane 808, co - produced with Arap Moi from Rongai and Namba Nane Production as its executive producer, is a smooth, hard hitting commercialized sang predominantly in Sheng and English aimed at changing the face of the Kenyan rap music from the usual hardcore street hip hop that has been the norm for a while. Its unique mixture of recent approach and trapped music makes it a must listen.
SDE: You had a huge number of renowned local rappers rally behind your album launch at Club 24/7, what does this mean to you?
KK: It's such a great achievement for me considering that this is my first hip hop EP. At first I was doubtful if people would show up. You know Nairobi people rarely turn up in large numbers for live gigs. I was amazed that evening when I saw a mammoth crowd struggling to enter the club.
Present were notably hip hop artists among them Khaligraph, Rapdamu, Kristoff, Majirani, Juliani, Baby T, CMG, Slim B, Lon Jon, C2K, Bilari, Voodooseller, Kingsko, VW, KRG just to name a few. Others were actors, and various media and local enteratainment personalities.
SDE: What makes you different from the rest?
KK: My amazing lyrical composition backed with an unmatched flow speaks for itself. I believe I tell it as it is. With the evolving music trends I endeavor not to let my fans down and that is why I give out my best during shows. To achieve this I make it a point to rehearse wherever I am, be either while driving, in the house, in the bedroom or at the studio. I always give my performance intensity before I step on the podium. And the results are amazing.
SDE: What is the inspiration behind your songs?
KK: Every day I live for my fans. When I wake up I ask myself if they would be comfortable listening to the new song I am drafting. Will they be inspired or dejected with the lyrics and that is why I inject my numbers with the message of hope for the coming generation. Sarkodie from Ghana is my role model.
 SDE: You have mentored a number of local rappers among them Octoppizzo and Khaligraph
KK: I have been working with them for a long time now even though I have always preferred to take the back seat.  I feel proud and inspired seeing their immense contribution the local hip hop scene… especially for Khaligraph who seems to be getting better each day. I have mentored a number of underground artists.
 SDE: Tell us about the group K-force
KK: It was a rap group of three that symbolized among other things Kevin, Kenya, but more importantly Kibera my hood initiated by myself in 2007- 2008. Its members included Bobby Slac (deceased) and ndochez. As Kforce we were pretty successful with hit songs like Chapa ilale, Piga saluti and Egobe, before we decided to venture into solo music careers.
SDE: Aside from music?
KK: I am a Jack of many trades: I not only I co-own a new visual creative company called "Man Made Motion but I also own a Namba Nane Music stable
SDE: In five years' time?
I see myself a house hold name in African Hiphop like Sarkodie
SDE: Advise to local musicians?
KK: Kidole kimoja hakivunji chawa. A Swahili saying that simply means together we can achieve more than when we stand divided.
SDE: Are you in a relationship?
KK: Yes, I have a wife.