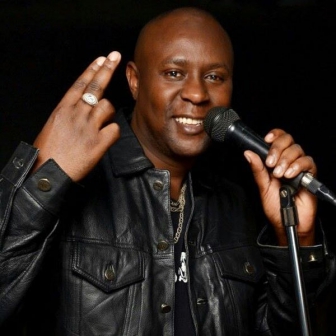 BY CAROLINE NYANGA
With a lilting, rippling dance groove, the band sings melodies that curl through the crowd like vines on a trellis at a restaurant within Mlolongo, where top Kamba bands usually perform.
The artist on stage is none other than Ken wa Maria popularly known as the undisputable King of Kamba Benga music and his Yatta Orchestra International Band who thrill hundreds of fans. As they stream in, it is enough to prove that he still remains the best, following in the footsteps of Kakai Kilonzo with his Les Kilimambogo Brothers or Peter Muambi and Bosco Mulwa.
This was a few weeks ago prior to 'The Fundamentals' singer grisly accident on his way to Ruiru town for a show. His accident spread like bushfire among his fans who sent messages via social media to find out how their hero was fairing.
According to the musician who is stable and currently undergoing his physiotherapy sessions:  "My survival is a miracle from heaven. If it wasn't for God, he wouldn't be alive," he says.
Despite this – it appears there is no stopping Wa Maria who promises more surprises for his music fans. "It's just a matter of time before I return back to the music scene and do what I do best. Music is a big part of me ever since I was a child," he says. 
Despite his fame attracting thousands of fans across the country, Ken Wa Maria is one artist who has courted admiration and controversy in equal measure.
Many a times his controversial lyrics have often put him on a warpath with fellow artistes and conservative traditional leaders. His political ambitions, too, have earned him friends and foes.
Take for instance during one of the General Elections, the singer released a single, Sakuai Mutongoi Muthini (Elect a Destitute Leader), off his fourth album, Rambi Rambi Makutano Chumvi. The song was perceived to be a subtle attack on Yatta MP Charles Kilonzo. Word soon spread that the dreadlocked singer was running for the Yatta seat. Given his huge fan base, no politician could risk ignoring him. But he surprised everybody by declaring he would contest Nairobi's Embakasi Constituency instead.
An ardent supporter of  Kalonzo Musyoka (now Wiper Leader) one of his albums Mchagua Jembe si Mkulima, is laced with hits like Kalonzo Ika Nesa (Kalonzo Excel), which proclaim the VP as "Kamba's chosen one", and the his detractors as "noisemakers".
On top of this the soft-spoken musician released his debut album in 2004, causing ripples in the Kamba music scene with the hit, We Nzamithya Mwelu (Mwelu, Let Me Taste), whose lyrics were considered obscene.
In the song Mwelu, wa Maria's purported lover, is frustrating him by failing to turn up for dates. The real-life Mwelu was not amused, and reportedly took legal action against the singer for portraying her as insincere.
And at some point during his career, wa Maria threw his fans into confusion after he expressed his wish to become an evangelist. His reason? Being a pastor would afford him a decent lifestyle as he would be in control of offerings from the faithful.
In his endless drama, wa Maria was said to have been once arrested on Mombasa Road for allegedly flying a flag on his car, in ministerial fashion. After this incident, he bounced back, releasing the hit Nenziwe Nuu? (Who Shaved Me?), aimed at those who claimed his adored dreadlocks had been shaved while he was behind bars.
Humble beginning
Starting out as a casual labourer in factories in Athi River town to a second hand clothes dealer in Gikomba Market, Wa Maria has scaled the heights to emerge as one of Kenya's wealthiest artistes.
Married to Angela and blessed with two children, he owns a fleet of personal cars including matatus and a garage in Umoja Estate. He also has a music shop, which his wife runs. On top of this the Nairobi-based singer bought a beachfront house in Mombasa.
So is he still looking forward to becoming a politician?
"For now, I am just a musician," says wa Maria who has often been accused by journalists of being difficult when it comes to matters of availing himself for interviews. But he refutes the claims terming it a ploy to finish him through bad press.
"Those who know me too well will tell you I am a simple, down-to-earth man who believes in hard work and nothing more. Nevertheless, there are a section of people who will never say anything good about you whenever things are working well for you. Like the saying goes, you cannot please everyone no matter how hard you try," he says.
 As for occasionally refusing to talk to press, he says it is because most local media houses concentrate on writing untrue negative stories about him instead of writing about his struggles and accomplishments.
His take on rival singer Kativui Mwene:
For rival singer Kativui Mwene who was once part of his band but left to form his own, Ken says he has no hard feelings towards him.
There comes a time when one has to stand on his own and prove to the world that he is man enough as opposed to being behind people all the time," says  the musician who  has  more than 20 VCDs.
Some of his popular albums include Fundamentals, Domitila, Miss Musembi, Syindu Sya Mutongoi, Neenziwe Nuu, Wikye Kituli, Kavalaku na Nzou, Kayoriyori, Kisangula, Mikorogo and Mkasa Sinai.