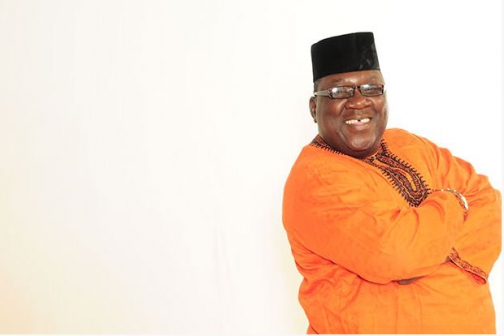 Actor, director, thespian, singer, father, husband and good will ambassador to Asia, Charles Bukeko popularly known as Papa Shirandula is still growing strong nearly two decades down the line.
A custodian at the University of Nairobi, his story is one that gives hope to thousands of aspiring actors in the country having climbed from the unfathomable levels of poverty.
"I am one person who came into the industry on the right foot and ended up working with the right people which made things easier for me," says Bukeko whose creation of the local comical programme Papa Shirandula has continuously gained fame over the years.
"Nothing can go wrong if you trust in God and follow your dream and heart yearnings," he adds.
Born in humble family background in Buhalarire, Kakamega, Papa Shirandula's rise to stardom has not been an easy one. It is a tough journey that has seen him through ups and downs.
"As the first child in a family of four, I had the responsibility to help my parents, Mrs Valeria Makokha and Cosmas Wafula, in taking take care of my siblings," says the actor who attended Jogoo Road Primary School and Upper Hill Secondary.
Upon completing school he moved to Nairobi's sprawling Eastland's Uhuru estate, where he would often trek many kilometers to the Kenya National Theatre.
 "Dr JPR Ochieng Odera was my first director in 1998. He gave me a line which read 'that camera doesn't have a film' which I did to his satisfaction."
From then on there was no turning back for the actor who later moved to Phoenix Theatre, where he met renowned actor Ian Mbugua.
The latter introduced Papa Shirandula to James Forkland who decided to train him for free on theatre basics for a period of three years, and like they say the rest is history.
Apart from the GOTV advert which he appeared on, Papa Shirandula has also been on big time commercials across the world like Coca Cola in Indonesia and Vodacom in South Africa. The Coca-Cola advert was shot in 2001 and ended up being a bang years later. While the Vodacom's first and second concepts were in 2008 and in 2010.
"In this advertisement I portray that stubborn African dictator Idi Amin Dada who is seemingly uncomfortable with the idea of new technology choosing to view it as a threat. The concept worked well making the advert very popular," he says.
This aside, Papa Shirandula who is also the Goodwill Ambassador for South East Asia, has traveled, acted and done concepts for countries like China, Malaysia, Japan, Vietnam Indonesia, Singapore, South Africa, Cambodia, Mauritius, Hong Kong and Makau.
The concept of Papa Shirandula show
The actor recalls that at first it wasn't taking into consideration that he had to find a new concept for a new Swahili local programme in order to make it acceptable.
"Initially it almost seemed impossible since Kenyans preferred Mexican soaps that were ruling the airwaves. Today, I am glad that I have established a name for myself both locally and abroad -where I am often referred to as African king of comedy," he says.
Papa Shirandula has featured in several movies among them Fernando Meirelles's excellent adaptation of John le Carré's novel The Constant Gardener.
Another is award winning movie Maloon by Bob Nyanja where he played the role of a watchman. Other productions include Pambazuka at the Kenya National Theatre and Makutano Junction where he played the role of a cruel, arrogant and corrupt MP Harrison Matata, for a period of two years.
A few years down the line his efforts were rewarded when he won the Best Actor in a TV series while his programme Papa Shirandula won in the Best Comedy category during Kalasha Awards held in 2010. Other awards include Best Comedy in TV series while his co- actor Kenneth Mugoya bagged best performance in comedy.
But like any other successful artist Papa Shirandula has had his weird moments as a public figure. He recalls that sometime back he received  a threatening text message from a stranger who demanded that he sends him Sh90,000 via M-Pesa.
"Unmoved by the threats I carried on my life as usual after reporting the matter to the police," says the actor.
The actor is married to Beatrice Ebbie Andega with whom we have three children Tony, Charlie and baby Wendy.
"She has been the pillar of my life. A faithful humble, loving companion in life's journey," he says.
His advice to aspiring artists is to never give up in achieving their life dreams.
 "It all comes down to patience, consistency and being persistent. They should always remember that Life isn't about how much money you have but the difference you make in someone's life," he concludes.