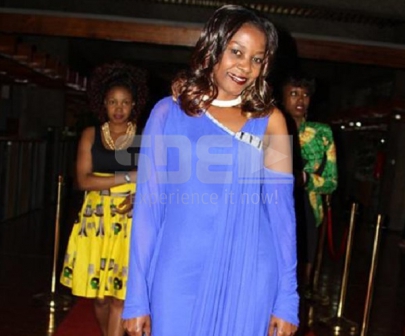 Gloria's love  for music begun way back in 1997, as a Form Two student at St Theresa Girls. The born again Christian ventured into Praise and Worship songs with several singing groups within Western Province
Things you didn't know about Gloria:
She was the third highest earner:
She was the 3rd highest earner who got to split a jackpot of 31million shillings with 10 other artists.
Her Follow You and Sitolia songs were marred with controversy:
Gloria's song Follow You has been noted for its similarities with the song I Will Follow by Chris Tomlin.  Despite this there was a time when musician Willy Paul complained that he wasn't making money from the song Sitolia because Gloria owned the copyright. An issue that they later resolved and went ahead to do Kitanzi together. 
She led a double life:
Gloria and her estranged husband Pastor Eric Omba got married in a relationship that she described as having been rocky since their wedding night. Describing her marriage as marked with death threats. She lived a double life; ever smiling singer by day, troubled spouse by night.
She is a conservative woman who looked up to God:
Despite her cheerful face, Gloria revealed:  "I always knew my husband was cheating on me and friends would always come around with reports but I always shut them out. I did not want outsiders, but God to show me the truth. In fact, besides my family and one bishop, no one else knew the hell I was going through", she narrated.
Troubled marriage
    She claims her husband mistreated her:
According to her in the first month, cracks had already developed in her marriage. Her husband kept on mistreating her. He even wrote down a set of rules for her friend's to follow.
" He even sent me over to a friend's place saying she would teach me how to cook and keep good hygiene only to discover that I was being turned into a house girl."
He had gotten violent over time and he offered no space for communication and dialogue," Gloria claims.
Even as her fans celebrated achievements which were supposed to turn her into a young millionaire, silence, sorrow and loneliness rocked Gloria's heart.  Her husband never respected Gloria as he would harass and intimidate her in front of everyone especially at the church studio and even back home.
 She accused husband of being "Money hungry":
"Let me say that my first shock was on our wedding night. After the wedding ceremony was over and we were left at PCEA Guest House where we were to spend the night, I went to the bathroom to shower only to come back and find Eric opening the gift envelopes, removing the cash and throwing the envelopes in the bin then stashing the money in his pockets," Gloria Muliro said.
Her husband's infidelity allegations:
"He would bring young girls to the studio in the name of clients but for days they would not record a song as they were not given studio time. You could see that they were there on a different agenda and constantly I would rebuke him, warning him that the girls would soon spoil his name"
According to one of the Spotlight Productions staff members,  Pastor Eric would bring young girls to the church in the name of clients but for days they would not record  song as they were not given studio time. Eric was having an affair with the "clients" behind Gloria back.