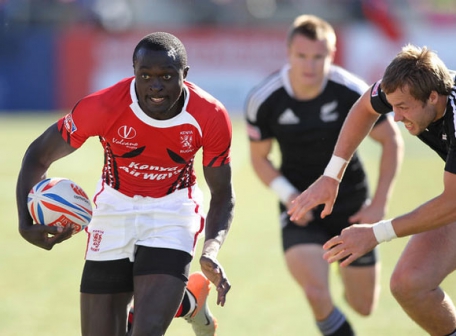 By Sheila Kimani (@sheilakimm)
Seeing him win the Sports Personality Of the Year Awards, one could not help but marvel at how proud Collins Injera has made Kenyans.
His presence and prowess in the rugby game, coupled up by impressive scores has placed him high in the World Rugby Sevens World Series, IRB circuit rankings, and won him accolades over the years.
For Collins who was born in October 18, 1986, his love for the rugby game started way back in his high school days at Vihiga Secondary School.
While most of his schoolmates had joined the rugby team for extracurricular activities and dropped the sport soon after clearing their high school, Collins kept the passion as his love for the game was also influenced by his elder brother Humphrey Kayange who was doing well in Mwamba, the national rugby club.
Passion for the game saw him become the top try scorer for 2008–2009 IRB Sevens World Series season with 42 tries. During the same time, he scored 210 points and finished second behind Ben Gollings of England in the individual points table.
Besides scoring world class nominations in regards to the Rugby games, Injera won the Kenyan Sportsman of the Year Award in 2009 and has also played for the Kenya National Rugby Union Team (15s), playing at the 2011 World Cup Qualifiers.
His prowess garnered him international recognition and brought so much pride to the country that he was awarded the presidential Order of Golden Warriors (OGW) alongside his brother Humphrey Kayange for their performance in the 2008–09 IRB Sevens World Series. Quite the remarkable sportsman, Injeera is married to Chebet and with whom they are the proud parents to daughter Chloe.
It was last year that the Kenya superstar Collins Injera celebrated his 200th try on the World Sevens Series by taking out a permanent marker from his sock and signing the camera. However, while it sparked controversy across sports platforms and tabloids, there was no denying that his 200th try was an achievement that many rugby players could only dream of.