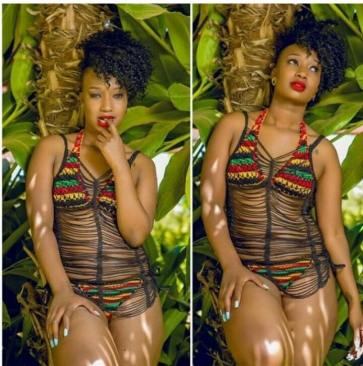 By Sheila Kimani
Showbiz queen extraordinaire, Talia Oyando a.k.a The Night Nurse has been a force to reckon with in the Kenyan industry for a long time. Starting music at an early age, Talia was part of the girl group Talma that won an Emmy Award and hit great milestones in her career before she was 20 years old.
Born to renowned producer Maurice Oyando, Talia admits that hers was a musical childhood which she loved. With her father's studio right inside their house it influenced her to take up music by forming the 'Talma' group alongside other teenagers Alma, Yma. Their album "Jambo Rafiki" went on to win an Emmy in 2001, making them the youngest Kenyans to win the prestigious award.
Despite her early fame, her school life was an unhappy experience.
"This is a topic I never talk about. I had a difficult time in high school because of bullying. I changed schools three times and all that time I never told my parents what was happening to me," she said.
"At time the bullies would rip my books or pour water on them, lock me in a room so I'd miss classes. It is due to this treatment that I changed schools but it stopped after high school" Talia continued.
In addition to being a songstress, Talia also found her place in radio when she joined Easy FM and went on to become one of the most celebrated young radio presenters in Kenya. This also opened her to new experiences in radio, television and music.
She did musical collaborations with top Kenyan acts like Goldenchyl, the late E-sir, CMB Prezzo, A.Y from Tanzania, and Rizla who ushered her into reggae music.
Her first single titled "RASTA" featuring Rizla off the 'raindrops riddim' and her second single "Whats Love" off the "Camp Fire Riddim" established her as a reggae artiste.
But just when her career was flying high, Talia took a hiatus off the entertainment scene to focus on her family.
Today, Talia is a wife to Ezekiel and mother to Lyric who she admits have changed her life tremendously.
Her resilience, assertiveness and encouragement to young people are reasons why she is our WCW today.