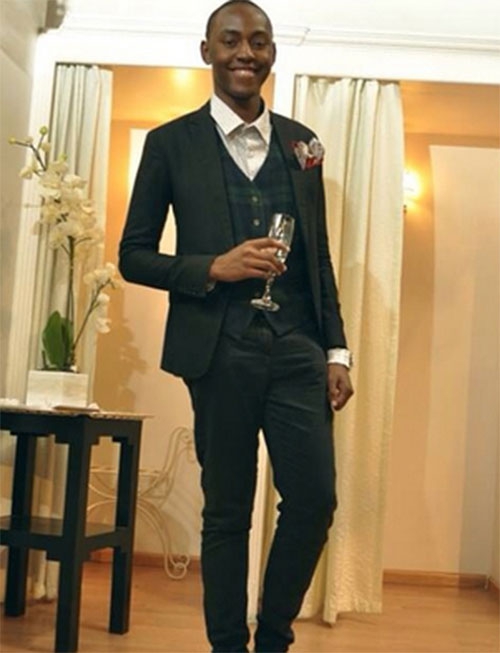 Pulse: Describe your style?
Arthur Mburu: My style is adventurous. One moment I am wearing classic suits matched with oxford shoes and the next moment I am wearing fitting jeans with printed shirts.
P: What inspires your style?
AM:1980s and 1990s fashion.
P: What is the most weird fashion trend you have ever rocked?
A: I once wore a pair of DIY bleached jeans. They came out so badly.
P: Who is the best dressed person you have ever met?
A: I am obsessed with Annabel Onyango's style. She keeps her dressing very fresh and new. It is always refreshing to see her style.
P: What is fashion to you?
A: Fashion is life. It inspires me to be myself and believe in myself. Fashion takes me to a world full of creativity and no boundaries and that is why I love it so much.
P: If you were to raid anyone's closet, who would fall victim A: That would be personal, menswear-style blogger, Adam Gallagher. His choice of clothes and style give me goosebumps each time I look at them.
P: What is the most expensive fashion piece in your closet?
A: My oxford shoes and my suits. I invested heavily in them.
P: What is the cheapest fashion piece in your closet?
A: My socks.
P: What fashion trend do you admire most in guys?
A: When I see guys wearing slim-fit suits well. That would be the best trend for any gentleman.
P: What fashion trend do you admire most in ladies?
A: The fitted crop top with fitting trousers and strapped heels.
P: What fashion trend would you never be caught dead wearing?
A: I would never wear ripped jeans.
P: What is your ultimate 'chill-out' look?
A: Converse shoes, slim fit denim trousers, printed shirt and wayfarers.
P: What is your fashion motto?
A: The biggest risk is taking any risk.
P: Where do you shop mostly?
A: I shop on various online stores and in thrift shops.
P: Who dresses you for events?
A: Local designers or Jumia Kenya.
P: Which fashion designer inspires you?
A: David Tlale who is a South African designer. I love his work on both menswear and womenswear. He is always pushing the envelope while targeting perfection in every collection he makes.
P: What lady fashion trend would you wish away?
A: Excessively torn jeans. They look as if they got attacked by lions. It is not a good look.
P: What fashion trend have you ever been criticised for wearing?
A: See-though shirts. A lot of people do not like the trend but I think it is great.