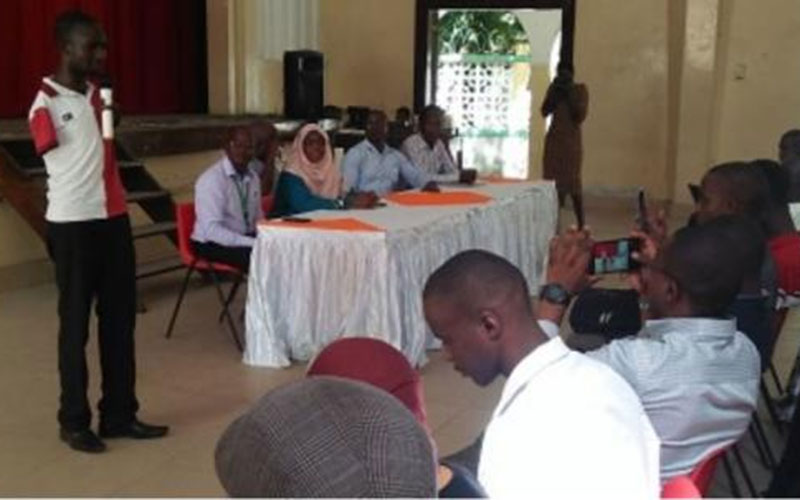 When John Lokuta Ewoi travelled from Baragoi village in Samburu County to Technical University of Mombasa (TUM) he knew exactly what he wanted.
First, he understood the situation at home and was determined to end poverty in his location and the only way to climb this mountain was to bury himself in books. And boy did he study!
Ewoi says his family had to sell land and other valuables to take him to Maralal High School in Samburu.
"My family has always been supportive from back in the days," he said.
His other mission was to pass a strong message: Disability is not inability.
Over Valentine's Day, Technical University of Mombasa celebrated the 23-year-old for setting a new record at the university. Ewoi emerged at the top of his classmates, 2120 graduates to be precise, scoring First Class Honours in the Faculty of Applied and Science, School of Social Science and School of Business.
For this exemplary performance, TUM university council and Vice Chancellor awarded Ewoi a Master's Degree scholarship in Science Finance during the sixth TUM graduation ceremony. He also received a token of Sh50,000 from the event's chief guest, Prof Shaukat Abdulrazak.
"Ewoi has done exemplary well in his academics and that calls for better award. I will therefore add Sh50,000 to what the varsity had already offered to him to support his studies," Prof Abdulrazak said.
Overcome with emotion, Ewoi said: "The sacrifice and efforts I put to achieve this academic achievement has paid off. I put in my all to achieve this great milestone," he said.
While in campus, friends helped him a lot.
"I had a room-mate who ensured our room was clean, my clothes were washed and ironed. He would even ensure we had water during shortage," he said.
And to write, "I would lean on the desk to open my book and use my little hand to write notes."
He added: "I thank all those who helped me study from primary to undergraduate level. I am ready to enrol for my Masters and I believe I will still do my best."
Speaking during the event, TUM Vice Chancellor Prof Laila Abubakar asked students to, "avoid drug abuse and illegal businesses; your performance in academics is determined by sacrifices you make to achieve your goals. Make the best out of the resources your parents are investing in you. Some have sold their property to keep you in campus therefore do not disappoint them."
Technical University of Mombasa, acting Deputy Vice Chancellor Academics, Research and Extension Prof Raphael Mutuku challenged students to emulate Ewoi who, "despite having challenges, he achieved what he wanted in life."