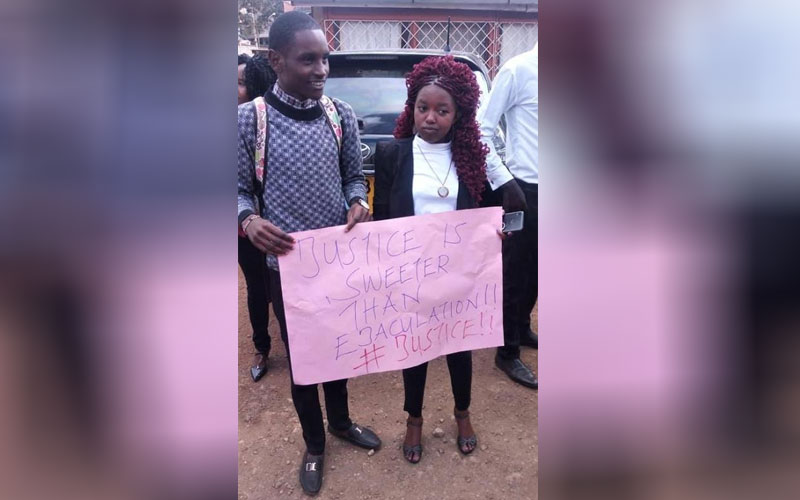 Students from Meru University of Science and Technology have taken demonstrations to a whole new level.
The comrades, while expressing their anger over the killing of student leader Evance Kidero, stormed a Meru court with placards containing lewd literature bordering on pornography.
The posters containing sexual language did not go down well with university management, court, fellow students and wananchi in general.
Njoroge alias Kidero was killed by an Administration Police during students protest in early in February. The officer is facing murder charges.
And so during last week's court hearing, some students held placards that read; "Justice is sweeter than ejaculation #Justice". The other read; "Justice is even sweeter than p***y".
They shared the images on social media, captioning them; "Slay kings and slay queens were not left behind in proclaiming the sweetness of justice. Viva kings and Queens. Long live the defiant comradeship spirit".
The outgoing students' association chairman Wangila Wabomba termed the whole thing 'embarrassing'.
He said: "I had to apologise on behalf of the acting students' leadership on this matter. The VC was furious. Local media threatened to give the court case a wide berth, but I begged them not to. Local residents too were not amused," said Wabomba.
He said while many demand justice for Njoroge, the image portrayed has eroded our course as members of the public choose to disassociate themselves with such vulgarity.
"Such kind of indignity is not expected from us university students. I think they went overboard. Tell me, how does it feel when primary and secondary school students read such lewd placards? How do you expect them to perceive universities?' posed Wabomba.
Would you like to get published on Standard Media websites? You can now email us breaking news, story ideas, human interest articles or interesting videos on: [email protected]