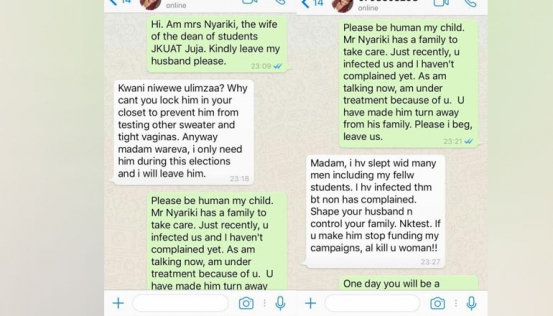 A student at the Jomo Kenyatta University of Agriculture and Technology (JKUAT) recently found herself in the limelight after screenshots emerged of a conversation she had with a woman whose husband she was allegedly sleeping with.
According to the screenshots seen by The Nairobian, the student identified as Lucia is a student at JKUAT.
In the conversation, a woman identified as Mrs Nyariki is apparently the wife of the university's assistant dean of students and asking Lucia to leave her husband alone.
Lucia, seemingly untroubled, responded that she had infected several students with HIV, including the assistant dean of students. She says she would only leave him after he funds her campaign for student elections.
The images elicited shocked reactions from Kenyans as they did the rounds on social media.
Emerging details, however, soon revealed that the screenshots were engineered for political gain. Close friends of Lucia promptly rushed to her defence, pointing out that the person in the images was not her.
In a statement posted to Twitter, fellow student leaders condemned the act as 'primitive, idiotic and barbaric propaganda' meant to put down an aspirant for the Academics docket.
The Assistant Dean of Students, Mr. William Nyariki, was reluctant to comment on the matter, but expressed his shock at the events.
"I don't know if the motivation is political or not. Obviously, I did nothing of the sort, so let us wait for the matter to be resolved legally," he told The Nairobian.
The issue raises certain concerns about student elections in universities, which seem to have gotten out of control. The lengths to which students will now go to discredit an opponent are scary.