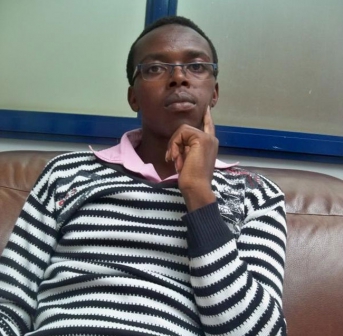 On April 27, a Maasai Mara University student sent the whole institution into shock and panic after posting a suicidal message on Facebook.
John Pareiyo (pictured), a third-year tourism student wrote that:
"I just wish to die, not that I'm sick, but I just wish. I'm sure there is someone somewhere fighting for his/her life, and if I die, dear heavenly father, please receive me."
The Nairobian reached out to him and he opened up.
"I became suicidal because I couldn't sit for some exams. I owe the university Sh110,000 in fees for the last two semesters. I need over Sh300,000 to complete my studies," he told The Nairobian.
He added that, "Last semester, I didn't sit for some exams and applied for late exams in May."
Pareiyo who hails from a village near the institution also claims to be the breadwinner in his family of eight.
"I've been struggling to pay my school fees since I was born and saw no need of living because of my problems, he said.
"After clearing high school, I started burning charcoal and was able to raise Sh160,000 to join the university and still take care of my family," he said.
Ismael Bosire, a friend of Pareiyo has witnessed the challenges his colleague has gone through and says that, "We have been encouraging him not to give up." Bosire added that, "When he made the suicidal post, we got concerned and talked to him."
Maasai Mara University Dean of Students, Ambrose Koech, told The Nairobian that he "knows the boy and we can assist him to apply for a HELB loan for the year 2016/17." The dean added that the problem with students is that they rarely share their problems."
In an earlier interview with The Nairobian, Moi University Chaplain, Rev Ariko Ekitala, when referring to numerous deaths at their institutions, said, "We encourage students to also seek spiritual help and counselling from the chaplaincy and even fellow students when they have problems."
Related Topics