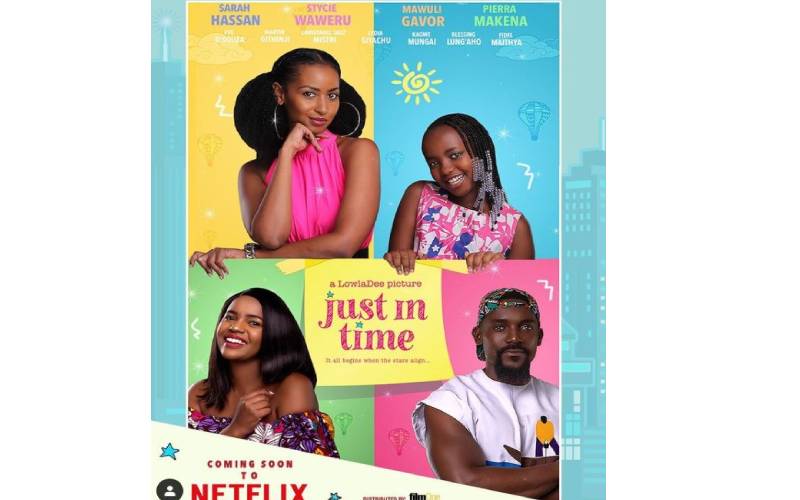 Another Kenyan film is set to premiere on the International streaming service Netflix. Just In Time, a family comedy-drama film written, directed, and co-produced by acclaimed Nigerian filmmaker Dolapo Adeleke is set to debut on Netflix on March 2021. Dolapo is well known for directing the movies, This is it and Plan B. 
The film, shot in Nairobi in 2019, is produced by award-winning Kenyan actress and producer Sarah Hassan, who also stars in a lead role in the movie. It also stars top Ghanaian actor Mawuli Gavor, well-known for his works in Nollywood and Ghallywood films (Devil in the detail and Sugar rush), Kenyan child actress and presenter Stycie Waweru (Supa Modo), and Kenyan actress and DJ, Pierra Makena.
The other Kenyan actors featured in the film include Eve D'Souza, Martin Githinji, Lydia Gitachu, Kagwe Mungai, Jazz Mistri, Blessing Lung'aho, Andreo Kamau, and Fidel Maithya.
ALSO READ: Kenyan films streaming on Netflix now
Kenyan films on Netflix
Just In Time is the first Kenyan film to premiere on Netflix worldwide as the other movies were only limited to Netflix Africa.
Poacher, an award-winning Kenyan film, was the first local production to be carried on the streaming platform. The 29-minute action-packed movie was shot and produced over six days at the Tsavo West National Park and released in August 2018. The film stars local talents Brian Ogola, Lenny Juma, and Davina Leonard and won Best Short Film at the eighth Kalasha and TV Awards held in Nairobi in November 2018.
ALSO READ: 40 Sticks: Another local movie debuts on Netflix as sector revamps
Sincerely Daisy and Disconnect, both directed by Kenyan actor Nick Mutuma, premiered on Netflix on October 9 and 16 October 2020, respectively. Sincerely Daisy tells the story of a happy high school graduate's dream, romance, and confidence is shaken when family and relationship drama put her future plans in doubt. Disconnect, which premiered in 2018, is about a group of single people who stumble through the wild dating scene in Nairobi as two friends wonder if their relationship is more platonic.
Lastly, is the thriller Kenyan film 40 sticks; centred on a group of death row prisoners trapped inside a crashed prison bus. They are fighting for survival when they realise a mysterious killer is lurking in the shadows. The 95-minute movie was scripted in Sheng, Kiswahili, and English, and directed by Victor Gatonye.