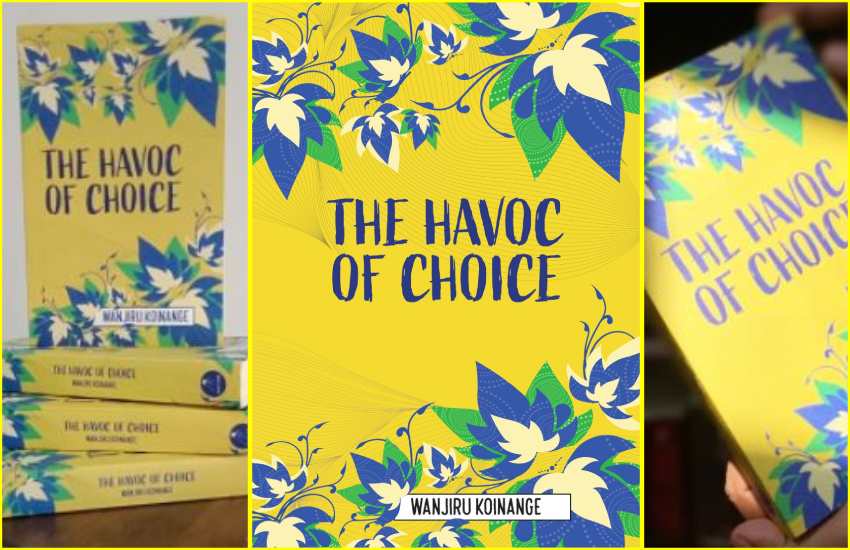 Kavata has spent her life suffocated by political machinations. When her husband decides to go into politics, the shadows of family conspiracies and political intrigues bedevil her home. Being a daughter of a corrupt politician, she can hardly imagine what will happen if her husband Ngugi, who has the support of his fathers-in-law, their children and the rest of their extended family, will turn the family into.
This overweighing burden of a family falling apart is too much to bear. And so, Kavata resolves to escape and seek refuge in another country. Then as anticipated, violence breaks out, every family member is on their own and a nation is torn apart. By the time the family gets back together after post-election violence, they have to wade through a landscape of nationwide confusion, desperation and heart-rending loss as they seek to heal the scars.
Released in July 2020, Wanjiru Koinange's maiden novel Havoc of Choice is a timely release, a narration of Kenya's spontaneous social and political havoc. It mirrors on the 2007 post-election violence (PEV) drawing a parallel on the current political situation in the country in which is a growing wave of intolerance being brewed in political undertones.
How can Kenya avoid ditching into the same political pitfalls by rewinding the mistakes of the past? It was these questions and concerns that caused the Havoc of Choice author Wanjiru to go back in time and analyse what really happened during the PEV period.
Read Also: Football legend Pele releases world's most expensive book
"I read every published work I could get and watched every YouTube video and every piece of news I could find. After about eight months of reading and watching, my eyes were peeled to the collective grief and trauma that the PEV caused, especially when this trauma is fuelled by reckless choices," she says of the inspiration to address this trauma. Wanjiru worked on this book for over eight years.
"I had enrolled at the University of Cape Town's Creative Writing MA programme in 2012, and every time I would mention that I was Kenyan, I would be met with questions and concerns on how we (Kenyas) were doing (with regard to the post-election violence (PEV))," she says of the queries that made her feel like an outsider talking about her country.
The story, told in the context of a singular household – The Kavata's home – through the eyes of the third party, journeys through the happenings of the campaign period, through the post-election violence of 2017 that was ignited by corruption and largely fueled by tribal differences, the casualties it left behind and the healing thereafter.
When Kavata leaves for the supermarket amid an ongoing party in her house, she has no intentions of going back. She is making good of her promise to Ngugi, her husband to leave if he, like her corrupt father, involves himself in politics, and more so if he runs in the upcoming country's election.
But she is not about to leave without ensuring her kids are taken care of. To this end, she enlists help from a few friends, relatives and even her employees to ensure her leave is discrete. She however does not count on the fact that she is leaving the country at its most delicate time – election period – and therefore her departure would elicit all manner of reactions.
"It would raise questions as to why she was saying goodbye yet she was just going to the supermarket. It would also have been harder for her to leave had she started saying her goodbyes," Wanjiru explains. However, had she known that (spoiler alert) one of her kids would die, she may not have left," says Wanjiru when asked why the main act, Kavata, would leave without as much goodbye to her children.
Read Also: Lupita Nyong'o's bestselling book translated into Dholuo, Kiswahili
As she grapples to return back to the country, she has to constantly put her life in jeopardy and every time choose between her safety and being home. She has to find her way back home, both physically and emotionally, in spite of the nationwide turmoil, heartache, hatred, class difference and loss.
This layered work of fiction has lots of stories to tell. For one it will tell you how the people in Kavata's household experience and react to the post-election violence. It will bring to the forefront of how corruption affects the different classes and how we react in the face of crisis and how crisis affects us. However, in the end, we get to see how – and thankfully so – despite class, conflict and crisis is ever a humbling and unifying factor.
"I was living my best life and barely inconvenienced by the PEV, but that's not the case for so many other Kenyans," she says when asked if she can identify with the story from a personal experience. "My first draft sounded very South African because those are the people I was listening to when all this was happening. It was later that I changed the voices to sound more Kenyan after I realised that we speak differently and have different mannerisms," she says citing from her book 'Ah ah. Leave the tea there. My husband isn't served by maids.' as a very Kenyan behaviour.
Kavata will show you how hard it is for women to find a voice in a setting where your voice has been decided for you. The antagonist in the story, Hon Muli, known to most as Mheshimiwa, is the representation of the typical Kenyan politician – making promises with no intention of following through on the said promises of maendeleo and employment.
He is used to progress the story relevantly, showing how protégés are inducted into the political playing field, by sometimes backing them up a corner and stripping them of other options to pursue. And when things don't go as planned, the protégé is dumped like the trash 'mheshimiw'a always though. But it is the naivety of the protégé, Ngugi, that is baffling. That beside countless warnings from his wife on the character of her father, Ngugi still chooses to believe 'mheshimiwa'. He follows 'mheshimiwa' to get his approval, but mostly because his ego and misogyny won't let him listen to his wife. It is no wonder he laughs menacingly when Kavata threatens to leave him. "Leave me and go where?" is the attitude he carries himself with concerning his wife. This choice he makes is what sets pace the havoc that ensues in his household.
"It was easy and difficult to write this book. Easy because I didn't have to make up the dreadful and gory scenes. Those are facts and can't be changed. Difficult because, the very same scenes had me bawling my eyes out every time I had to edit them," Remarks the author adding that a sequel would be too much for her. "I don't want to write another book where people cry, I want to write about love and happiness. The same way, I wouldn't want my country to go into bloodshed. I wouldn't want the tribal and class narrative to divide Kenyans as we approach the 2022 elections. That is part of what the novel is trying to preach; the dangers of political intolerance as mostly fueled by politicians," Wanjiru concludes.
Related Topics