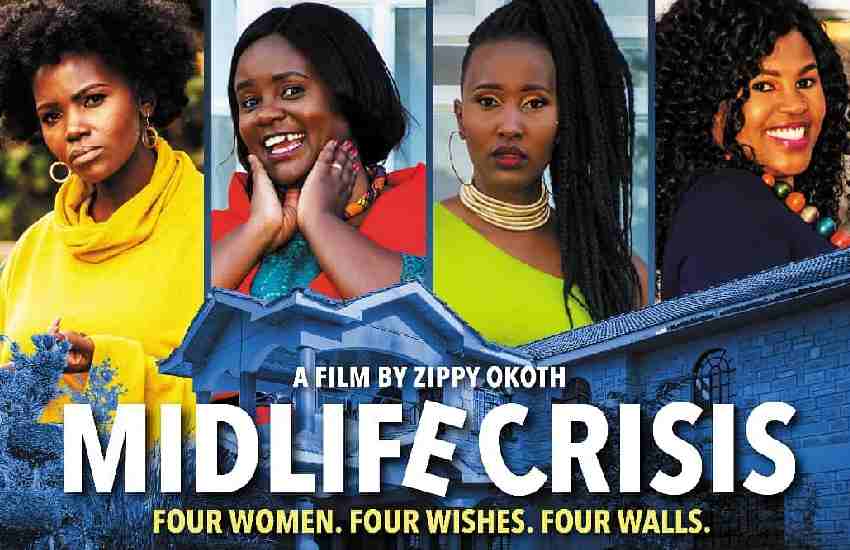 Psychologists say that around the age of 40, many people plunge into a state of a mid-life crisis, a transition from youth that is often accompanied by denial of ageing. Some ditch their responsibilities to pursue pleasure, and the inevitable ageing is preceded by feelings of emotional turmoil such as anxiety and depression.
Film director and producer Zippy Okoth has exemplified the crisis through her new film Mid-life Crisis that premieres today at 3.30pm and 7pm with two shows at the Kenya National Theatre. Co-produced by Abu Melita and Ahmed Deen, the film features actors Keith Chuaga starring as a doctor, Lulu Wilson (nurse), and Suki Wanza (housewife). Others include Pascal Tokodi, Alison Nyawira, Ruth Maingi, Keith Chuaga, Kauthar Kang'ethe and Carolyn Mzoori.
Read Also: Kenya submits 'The Letter' for Oscar consideration
Okoth says the film was based on women's real-life stories. "I have never been this excited. First, this is based on real women's stories. We're definitely talking about our biggest challenge at 40, the Midlife Crisis is here guys," wrote Okoth on Facebook.
The film's narrative revolves around tales of four women in their 40s struggling with the experiences which come with the end of their youthful stage. It starts with Gigi, a spinster desperate to conceive. She visits a clinic and later meets with her three friends to share their secrets. The three console the desperate woman and share their moments marked with laughter, tears, conflicts, love, and jealousy, making the film a true depiction of the state of midlife crisis.
The women are in a dilemma striving to conform to social expectations while pursuing their hedonistic dreams and fantasies. They are financially stable, getting promotions at workplaces and can afford luxuries including engaging in drinking sprees.
Read Also: When crazy midlife crisis hits your man
Despite their appealing success in many aspects of life, they are also victims of myths around relationships and life in general. Their friendship is threatened with jealousies and competitions, which often lead to conflicts. From a woman troubled with the reality of having a pregnant daughter to another longing to get married, the film shows how midlife crisis is a painful experience for adults.