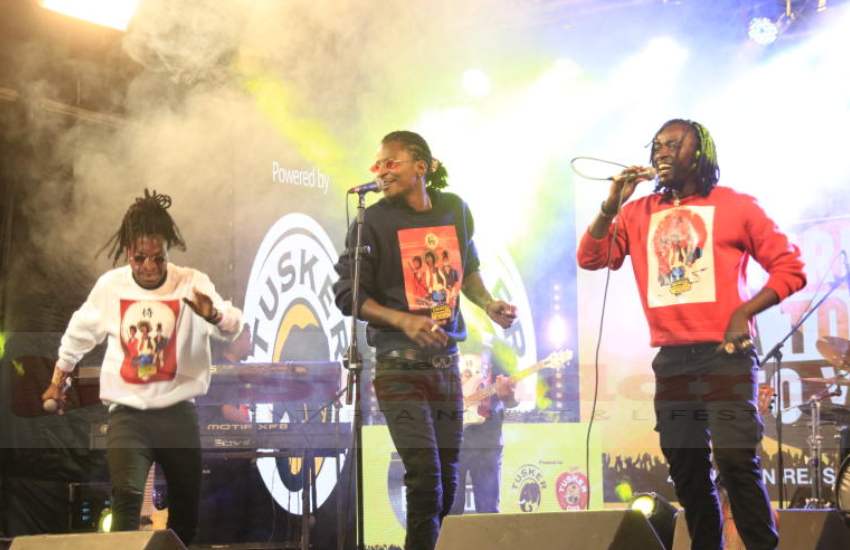 With a thrilling line-up of musicians and deejays, the second showcase of the 47 Million Reasons concert hits the airwaves this Saturday to an eager crowd of viewers and listeners. Sweet as they come, from the shows demand, the screening of this weekend's show has been stretched from the originally programmed 1 hour by 30 minutes. It will run from 10.30pm to midnight with Wyre, Nazizi, Juacali, DJ Nijjo and DJ Pinye among others taking the stage.
Read Also: Electrifying performances - 47m Reasons concert captures the airwaves
Taking up from where Kidum and H_Art the Band left it last weekend, the second, in a series of four shows, will air on KTN Home and BTV. It will also be streaming live on Radio Maisha, Spice FM and Vybez Radio and all other Standard Group entertainment social media platforms.
Before the Saturday concert, Friday will be a party night for Ohangla lovers with celebrated singers Musa Jakadala and Prince Indah lighting up the Trace Live cultural extravaganza show which will be streamed on Trace Live Youtube and Facebook channels - as the virtual show makes a comeback after a short break. The last Trace Live season was a showcase of contemporary music genres like rap, Gengetone and gospel and this time around, Trace is diversifying into the vernacular spectrum of music.
Necessitated by Covid-19; social distancing and the fact that public gatherings were banned, virtual concerts have become the way to go when it comes to music entertainment. The big shows that have seen millions get entertained from the comfort of their living rooms have brought with them a new showbiz lifestyle of the virtue gigs age.
Read Also:Inside a Covid gig - How corporates are adjusting to new trends
"Unlike the ordinary gigs where only a few can afford to pay tickets and attend physically, virtue gigs become cheaper and convenient as you watch them for free at the comfort of your living room. They are also convenient for the fact that you don't have to mingle and interact with people you didn't want to as it is with physical shows. All you need is a TV set and for some cases just streaming services," says Danny Mucira, the Trace East Africa Managing Director. "So long as the organisers of the virtue show do their research well and know what the audience wants. As long as they select artistes based on their ability to reach the target audience with maximum impact, virtue shows will always be a hit to the point of surpassing ordinary shows thanks to their big reach base."
"Virtual shows are being embraced well in Kenya and this is forming new thinking for events organisers. The future of events could actually be virtual events. It might not be as simple as it looks to host a mega virtual event such as the 47 Million Reasons event Standard (Group) is hosting but I can tell you the effectiveness of a well-organised virtual show can bring bigger gains than in physical events. So long as you have the right partners and sponsors and a good team that can advise on artistes and other logistics, virtual events can be a big moneymaker both for artists and organisers," says Leakey Odera, a leading events organiser and CEO of Pambazuka Entertainment.
Read Also:47m Reasons - Why media, creative industry need to work together - Standard Group CEO
While the 47 Million Reasons campaign has been powered by Tusker, the Trace events have been involving the services of Safaricom, Multichoice and Remy Martin. The Covid-19 pandemic has to some extend been favourable for musicians who boost of an extensive music catalogue. These are the artistes who are getting the gigs. This is because, for virtual shows, one has to have enough quality songs that can make a show of over one hour and that can keep the audience thrilled and hooked. 
"The thing is that different musicians have different demographics and from a numbers perspective Shamsi (Music) may not have as many followers as King Kaka. That doesn't mean that the live stream isn't amazing. It simply means that from a numbers perspective their audience numbers are different which is ok. This is why virtual shows are becoming mega concerts for those who plan well," Richard Njau aka A-Star, who is a gospel rapper and digital media enabler, said during a previous interview with Standard Entertainment and Lifestyle.