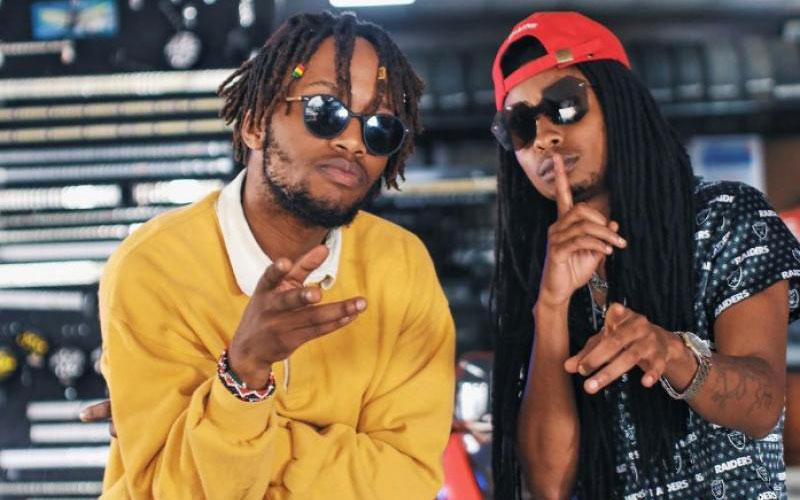 Song: Mastingo
Artiste: Kahush x Chris Kaiga
Video: Ronie Kip/Tupac/FRNCK
Rating: 8/10
This is the ultimate flex. Think Outkast, Boomba Clan, Kanye West and Chris Kaiga. A video so nice, you watch it with a smile. And hit repeat. There is fresh dance moves, corny dance styles, trendy fashion, absurd attires. There are serious acting and foolish scenes. You are just left wanting more with each view. You have to be very attentive to see through the artistry of this video. It's a roller-coaster through different scenes, indoor and outdoor, different cast, themes and scenarios. Dancers in a gym, Kahush and Chris in a living room, artistes in a salon, other guys waiting to be attended to in a barbershop. The cast comes through with appropriate attitudes, choreography and acting skills in locations that include a car garage, a café's counter, an outdoor sitting area, and a basketball court.
A lot is going on in the video, yet surprisingly, it flows seamlessly. Whether the cast is sitting in a stationery convertible or dancing in a car garage, it's all fun. Apart from a few cut and transition styles, the direction is pretty straight forward. Shoot different scenes and edit them into a story.
Chris is the king of the absurd, songs that you won't learn anything from, but which are just good to the ear. He has an ear for a hook, and in this trap beat, the song is fresh.
Over in Uganda, Jackie Chandiru got Arrow Bwoy and Enos Olik to elevate her new song, The One. It's an ebony affair, bodies on bodies, an after-dark theme that give the video a seductive vibe.
Bad boy Benzema pulled a shocker with Paka Permit, featuring Murasta, a song about rape, both artistes being victims of rape and false accusation. The addition of a protest simulation, complete with placards, made the message clearer
Khaligraph Jones baited Safaricom's endorsement through Tuma Kitu, an indoor shoot that featured dancers, a Range Rover, vixens and a lot of lighting styles, camera angles, hues, and colour schemes.
Mumbi Muturi gave Maya Amolo a very lush concept for her new song Lush Green. The song is rich in nature, authentic in fashion and boldness. The best scene is the artiste calmly sinking into a bathtub.