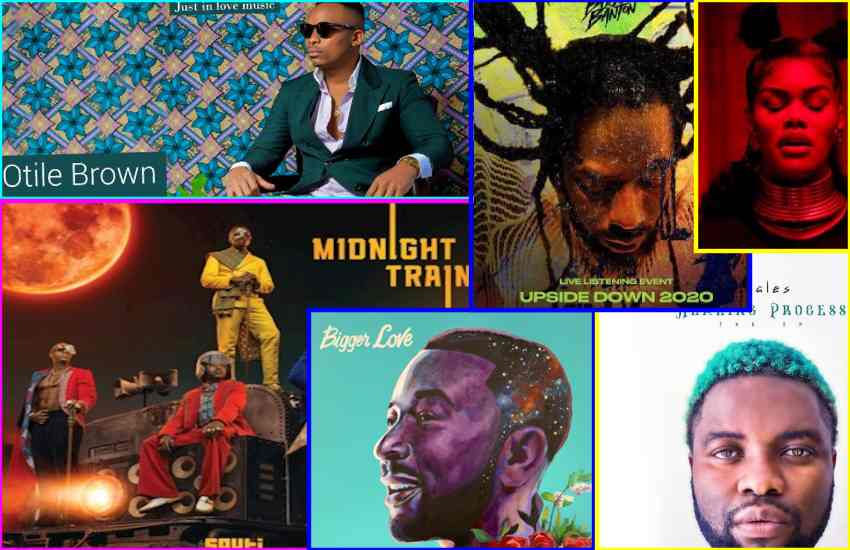 As we bid the month of June goodbye and welcome July, Standard Entertainment & Lifestyle takes a look back at the amazing albums that saw us make it through the lockdown .
JUST IN LOVE- OTILE BROWN
The up-tempo sexy album released exclusively on Boomplay and currently stands as the most listened to Kenyan album of 2020 with over 1.1M streams and counting, Just In Love is a 10-song project that was released on June 2.
Following his entry into music in 2015 Otile has established himself as one of Kenya's most exciting musical prospects as well as a leading voice in the industry.
Just In Love further cements his presence in the industry with collaborations from Mejja to Kidum, Khaligraph Jones to Juma Jux from Tanzania and Meddi from Rwanda.
This particular album sees the Baby Love hit-maker draw inspiration from different music genres, exploring relationships between men and women.
MIDNIGHT TRAIN- SAUTI SOL
Multi -Award-winning boy band Sauti Sol finally dropped their much anticipated fifth studio album dubbed, Midnight Train.
The 13 track well-crafted piece of art released on June 5 by Universal Music takes fans through the journey of life, embracing trials and tribulations that come with it plus dealing with the many insecurities that put us down in everyday living.
The album consists of features by international artistes; Sho Madjozi, India Arie,and Andre Harris included.
Read Also: The wait is finally over! A close look at Sauti Sol's classy album, 'Midnight Train'
The title track Midnight Train, which is a representation of their never-say-die attitude was produced by Andre Harris who is credited for some epic tracks with Justin Bieber, Kanye West and Jill Scott.
According to a recent interview, Chimano, a member of the group revealed that Midnight Train is about their hustle and the effort they have put into their career, burning the midnight oil.
Combining different native languages, Sauti Sol prides itself on storytelling as an East African tradition that permeates music from the region, a strategy that's kept them afloat and relevant with audiences across the world, earning them so many accolades along the way.
HEALING PROCESS - SKALES
On June 19, Nigerian singer and rapper, Skales released his fourth album, Healing Process, built after everything he's had to deal with in his life and career, and the trauma from people around him.
Since his career resetting album Man Of The Year in 2015, Skales has been hard at work making music to soundtrack the hedonism that has both characterised and defined this generation with a flush catalogue of club-ready bangers.
This is a visual hike through years of ache, stardom-induced anxiety, overwhelming awareness, and search for peace, Healing Process is a left-field turn from the poetic joy of earlier projects. He weaves a line between lack and faith in God as well.
BIGGER LOVE - JOHN LEGEND
This album is a celebration of love, joy, sensuality, hope, and resilience- the things that make our culture so beautiful and influential.
The follow-up to 2016's Darkness And Light is executive produced by Raphael Saadiq and features guest appearances from Gary Clark Jr. Jhené Aiko, Rapsody, Camper, and Koffee, the youngest and first-ever lady to win the Grammy for Best Reggae Album.
Bigger Love is an album that wants you to understand that he still has fun with his music. From the romantic power tunes that allow him to show off his majestic vocals, to the more obvious get-up and dance funk-filled numbers towards the latter half of the album.
Read Also: John Legend named 'sexiest man alive', his wife Chrissy reacts
The first half of the record is undoubtedly the stronger half – but songs like Don't Walk Away and Slow Cooker are some of its standouts.
Never Forget at the end of the album is a beautiful highlight that will no doubt get major play across every single event post-Covid.
THE ALBUM - TEYANA TAYLOR
The Album is an impressive compilation of intimate, raw songs that span different genres and themes.
At 23 tracks, The Album embodies Taylor's newfound creative freedom. Feeling stifled creatively when recording previous albums, Taylor intentionally included many tracks on this project, making the result from all the more personal and reflective of her vision. With live performances in mind, Taylor curated
The Album tracklist as one she can perform from start to finish in concert. The Album can be listened to in five sections which Taylor refers to as "studios"; A, L, B, U, and M. It's best to listen to the project in this way as it makes the 23 tracks more digestible.
An intimate, highly sexual, personal project, Intro is a powerful piece that sets the tone for the record. Taylor features her husband's 911 phone call during the unexpected birth of their daughter at home. It's a moving recording - listeners can hear the raw emotion in her husband's voice and feel the urgency of the moment.
Read Also: Kim Kardashian resents Kanye West's 'other woman, feels left out
Wake Up Love and its accompanying video, convey Taylor's deep admiration and appreciation for her husband Iman Shumpert, who is featured on the track. Allstar features and samples are abundant on the record including Rick Ross, R&B legend Erykah Badu, Quavo, Kehlani, Missy Elliott, Future, DaVido, Big Sean, King Combs, and the iconic Ms Lauryn Hill.
UPSIDE DOWN 2020 - BUJU BANTON
Dancehall heavyweight Buju Banton finally dropped his highly anticipated studio album, Upside Down 2020.
Since his release from prison in 2018, after serving ten years in the US for drug charges, Buju has been advocating for a more organised industry while acknowledging that dancehall music has changed.
A while ago, he stated that while he seeks to highlight the systemic problems around the world, he is aware of the need to preserve the dancehall culture along with the real essence that reggae music offers. The Gargamel, however, noted that these are not normal times so things cannot continue as normal.
Upside Down is his first release since his Grammy-winning album Before the Dawn in 2010. Buju has been very vocal about this new album and has explained the ideology behind the name.
"Most of the things that we talk about, we ascribe a negative connotation to it. Bad becomes good. Right becomes wrong. Innocence becomes guilt. Guilt becomes innocence, truly become else. Real become fake. Up becomes down. And we accept it all. Yes, I've been in prison. That's not no f***ing secret, but I've come out of prison, to find a nation of people sleeping," he explained back in May.
He intends to show everyone through the 20 tracks that the world around them is upside down and can only be corrected with 20/20 vision.