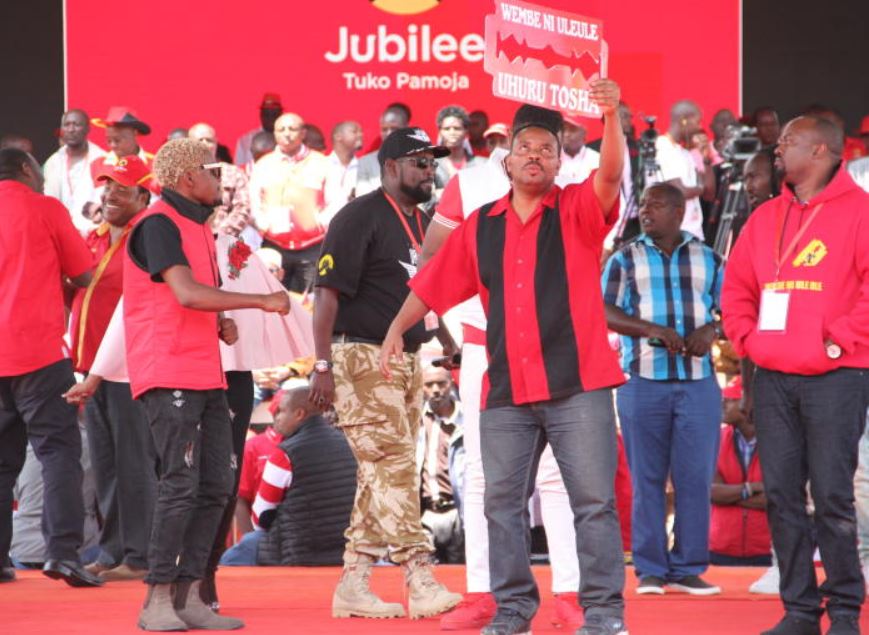 After the death of Joseph Kamaru and John Demathew, Kikuyu musicians vowed to remain united and steer the community in one direction. But beyond the familiar rhythm of their beat, the messages buried in the lyrics are as divided as Mt Kenya politicians.
The musicians have been sucked into the different political factions if their recent meetings with former Prime Minister Raila Odinga and Deputy President William Ruto are to be considered. Gospel artiste Ben Githae, famed for the Uhuruto Tano Tena song, is currently leading a faction of musicians that has thrown its weight behind the Building Bridges Initiative (BBI) and Raila.
On the other hand, gospel musician Muigai Wa Njoroge, who has been a critic of the Jubilee administration, is leading a faction that has visited Deputy President William Ruto's Karen residence several times.
Raila and Ruto who are battling for the vote-rich Mt Kenya region have made almost similar promises to them, expressing their willingness to support the musicians in transforming the sector, which has been exploiting artistes. Raila met Githae's faction in Nairobi on January 12 and later hosted them at his Bondo home where he sought their support to penetrate Mt Kenya region for BBI campaigns.
ALSO READ: Subukia and its peculiar links with top Kikuyu musicians
"Those saying Kikuyus don't like Raila, I don't know where they get the narrative from. I will climb the mountain. Kenneth Matiba taught me how to climb the mountain," he told the musicians.
Speaking to the Sunday Standard, Githae said he supports the BBI, hence the meetings with the former prime minister.
"I believe in and support the BBI. It is my personal right as a Kenyan. We met Odinga to discuss the sector but being a politician, the BBI and other politics had to surface," Githae said.
Raila has in the recent past been trying to make inroads in the Mt Kenya region where Ruto is supported by a sizable number of elected leaders. To counter Raila, the DP hosted Muigai's faction of the Kikuyu musicians at his Karen residence on January 18, assuring them of his support to the larger creative industry.
Entrepreneurs
"Music is a business. Artistes are entrepreneurs. The creative industry has the power to generate jobs and stimulate economic growth. We will keep investing in their dreams on account that like many other businesses, they too deserve recognition because every hustle matters," Ruto posted on social media after the meeting.
The musicians' division took centre stage during the burial of Mugithi artiste Timothy Njuguna, alias Mighty Salim, in Subukia, Nakuru County. It was mainly attended by the team against the BBI.
ALSO READ: Samidoh: Meet Kikuyu artiste who brought the house down at Koroga Festival
"We saw our counterparts led by Ben Githae hosted by Odinga to endorse BBI. We were hosted by Deputy President William Ruto. It is not a sin. We all take our mouths where we can feed. We believe we shall be part of the next government," Muigai said.
Musicians are always a critical component in passing across political messages through songs and gracing road shows and public gatherings with their dancers to pull crowds for politicians. Although the musicians maintained that there is no bad blood between the two groups, they admitted that each musician has taken a personal stand for economic reasons.
Protect their rights
Githae said their divergent views on the BBI should not be taken as unhealthy division among them.
"Just like Muigai said, we are in business. Where one goes is a personal decision based on their personal reasons. Some are here for the money but others because of their political convictions," Githae said in a telephone interview.
The artistes took a swipe at the government for failing to protect their rights, noting that other stakeholders have been benefiting more from their music.
"We have been asking for help to recover a fair share of our royalties. Due to the heavy taxation, musicians only get 30 per cent while a huge chunk goes to the government as tax. This is why we continue to hold fundraisers for musicians as they live in squalor," said Muigai.
He urged the legislators who will be elected in the next elections to legislate proper laws to protect the interests of musicians and other artistes.
"We dream of a day a government that has our interests at heart will take over leadership. In the coming elections, we shall only rally behind a person who shall assure us of their support once they get to office," Muigai said.
He accused politicians of using them during campaigns and neglecting them once they clinch elective seats and appointments.
"Most politicians have not only been using us but abusing us. They seek us to join their caravans during campaigns but thereafter they forget about us until the next campaign cycle," Muigai said.
He however said there are a few politicians whom he described as their saviours in times of need.
"Mighty Salim had huge medical bills before he died. There are doors that we knocked on seeking help and they were never opened.
"We are glad that we have a few kind leaders present here today who have been supportive throughout Salim's journey," he said.
But Githae said musicians are paid for services rendered and have no binding contracts with the politicians to reward them once they succeed.
"Most musicians get paid upfront to be part of a political caravan. They are paid handsomely and should not complain that they have been neglected.
"They should not have a sense of entitlement for any favours thereafter unless they had an agreement with the involved persons," he said.
Related Topics