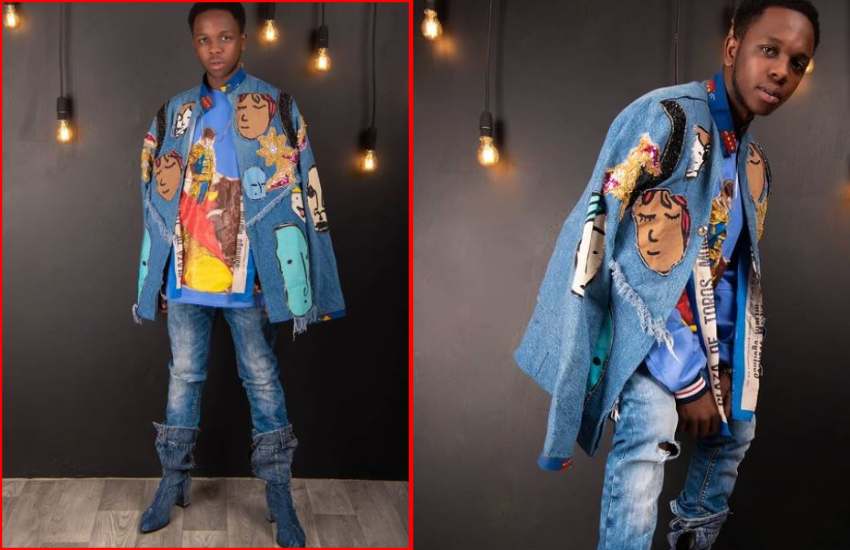 Former Machachari actor Malik Lemmy, popularly known as Govi, has come out to refute claims he is gay after he was spotted posing in heels.
Setting the record straight in a recent interview with comedian Jalang'o, the child star revealed that he was completely taken aback by netizen's reactions explaining that being labelled gay was never his intention while posting the picture. According to Govi, his designer advised him to 'switch things up', as he is always in sneakers, and introduced to him the idea of wearing heels to match his denim look.
Read Also: Govi- Why teen star quit popular Machachari show
"We had a conversation with my designer. I told him to give me sneakers and he said: "No, let's show people what you are really made of". I turn, look at my feet and I have the heels on. Muma Pix - the photographer - was already taking the pictures, saying how much it would sell. It is funny how someone can sit and say I am gay; I'm the straightest man you will ever meet... I always tell my fans, you can accidentally find yourself in the middle of a mix-up, structured by people making showbiz, because when that hate and love mix, it becomes success," he said.
Manoeuvring the film industry
After years of being out of the acting scene, the talented actor recently landed a new role on the famous show Kina. The excited youngster shared the news with his fans on social media urging them to make a point of watching and supporting him. "Many have been asking mbona nilitoka screens...back again!!! Don't miss. Enjoy now," he wrote.
A few months ago he voiced his concern over Kenyans putting pressure on them as actors to do better and reach high levels of acting like Hollywood. Govi stated that as child actors, neither of them came from the same background, making it difficult for some to carry on their dream of acting on a greater level.
"We all come from different environments, I might be financially stable but that doesn't mean that all of us are stable. Don't expect us to be living in paradise and driving flashy cars yet you know the Kenyan film industry is still at ground zero when it comes to paying actors. We were the sacrificial lambs of peanut salaries and because of that now your children are enjoying the fruits of the industry," shared Govi.
Read Also: Former Machachari actor 'Almasi' explains his style of dressing
He called upon fans to support and encourage them to grow at their own pace instead of judging them. "I believe if we hadn't paved the way for the young people in Kenya… many things wouldn't have been born by now. All I'm asking from you guys is give us time to grow, to make our mistakes. Shower us with your love and blessings. We are your children. Don't ask us why we haven't been to Hollywood yet we get no support from you guys. If there is someone to make us reach the top is you guys. Kenyans, instead of abusing get to know how these guys are doing," he said.
Related Topics