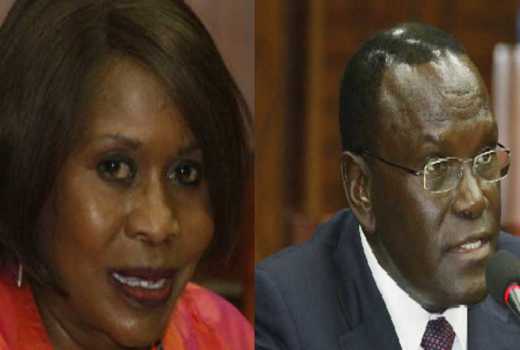 Former Cabinet secretaries fought allegations that they were demoted for failing to deliver and handed a 'soft landing' in diplomatic missions.
During their approval hearing in Parliament yesterday, the candidates' performances in their former ministries returned to haunt them, with former Health Cabinet secretary Cleopa Mailu at pains to explain why he thought he was fit to serve in the diplomatic mission when it had taken him long to resolve the doctors' and nurses' strikes.
Four of President Uhuru Kenyatta's first Cabinet members who were dropped and sent to head diplomatic missions appeared before the Defence and Foreign Relations Committee yesterday as they sought Parliament's approval for their new postings.
The former Cabinet secretaries insisted that their appointments were still a show of faith in their capabilities.
MPs complained that the fact that Mailu oversaw the longest industrial action by medical workers in the country indicated that his diplomatic capabilities were wanting.
"There were complaints from doctors' and nurses' unions that you did not give dialogue attention; that you would walk out on them in meetings, and this could be the reason you have the dubious distinction of holding the docket when the country faced the longest strike by the medics," said Belgut MP Nelson Koech.
But Mailu, who will be heading to Geneva as the country's Permanent Representative in the United Nations, sought to exonerate himself from blame.
"We were also dealing with union officials who wanted to take advantage of the situation to fleece the Government. We just could not meet what the health workers were asking for. But that also got us to come up with legislation that will help this country. In future we will never witness such strikes," said Mailu.
There was amusement when it emerged that Mailu had scored an E in chemistry, with MPs demanding to know how he ended up pursuing a degree in medicine to become a doctor.
"I think you are looking at grade E from the present context of grading. That is not how it was in 1973. All said, I need to inform you that I passed and was accepted to study medicine. We were only three of us in a class of over 30 candidates who made it to university," responded Mailu.
Former Environment CS Judi Wakhungu was accused of not leaving any meaningful imprints in her docket.
However, she maintained that she was among the top performers, saying it was during her tenure that the country's forest cover had improved from 6.9 per cent to 7.4 per cent.
Prof Wakhungu also faced questions whether she spoke French or would face a language barrier.
She briefly addressed them in the language, but admitted that she had elementary understanding of French.
The deathbed
Former East African Community CS Phyllis Kandie was asked why during her tenure as Tourism CS the sector was sliding to its deathbed before Najib Balala was given the docket and turned around its fortunes.
She explained that she was in charge of the docket at a difficult time when the country was facing serious terror-related attacks.
Also facing the panel was the nominee as Tanzania High Commission, Dan Kazungu, and Macharia Kamau, who has been nominated as the new principal secretary for Foreign Affairs.
Related Topics