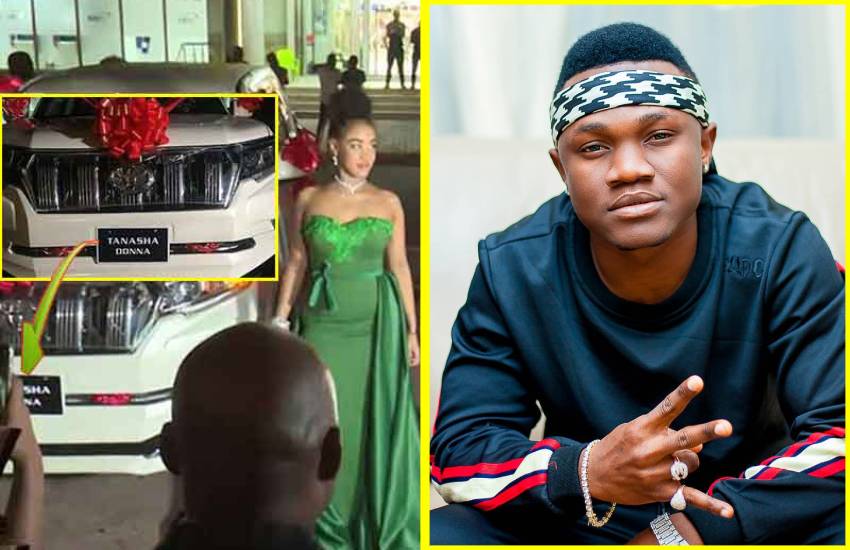 When Tanasha Donna turned 24 in 2019, her then-fiancé Diamond Platinumz threw a glamorous birthday party and gifted the mother of one a brand-new Toyota Prado.
In 2020, however, their relationship hit rock bottom and Donna having shuttled between Dar es Salaam and Nairobi when things were rosy, packed her bags and left.
To the surprise of many, as revealed by Platnumz's friend actor Juma Lokole, Donna left the Prado in Tanzania.
Read Also:Why Tanasha Donna left without Prado gift from Diamond – Lokole
It has now emerged that Wasafi signee Mbwana Yusuph Kilungi popularly known as Mbosso may have been handed the car.
Setting the record straight, however, the Hodari hitmaker denied the allegations, claiming that the Prado he has been spotted cruising in, belongs to him and it just happens to be similar to Donna's gift.
Producing receipts as proof of ownership in an interview with Wasafi Media, Mbosso admitted that while buying the over Sh10 million car, he was warned that it will be mistaken for Donna's.
"I was told, if I'm not keen, my car will be seen to be that of Tanasha's. This is my car that I started the year with," he said.
Speaking to True Love Magazine, Tanasha - on her part, stated that she has absolutely no interest with the car and deliberately left it behind when she came back to Kenya.
"The car is in Tanzania. I had no interest in taking it. I have my car here. I have my BMW actually it's in the garage. I can get myself a car and what I need, that's all that matters," she said.
But according to Lokole, the said car actually belonged to Diamond's mother, Sandra Kassim.
Read Also:Tanasha Donna to move houses hardly a month after Diamond split
In an interview with Wasafi TV, Lokole claimed that the car Platnumz handed Donna during the 'Great Gatsby' themed party at Mlimani City, Dar es Salaam, on July 7, 2019, is registered under his mother's name.
"The car is still there. Why should it be sold? Naseeb is not one to sell his property," said Lokole after a fan asked whether the Prado was on sale.
"Why should Tanasha leave with the car? The car belongs to Mama Dangote. In fact, all the cars," added the actor.
Tanasha Donna rubbished the claims as fake news.