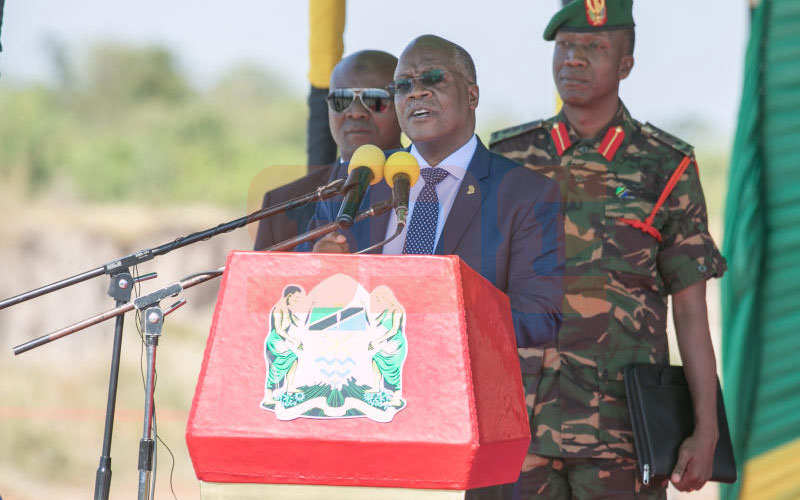 Tanzania's first coronavirus patient has been declared virus-free. Addressing the nation on March 22, President John Magufuli said that the total number of confirmed covid-19 cases is currently at 12, with no reported deaths.
Magufuli further said that that there were no new infections, with tests conducted on the country's Patient Zero coming back negative for the virus which emerged in China in December 2019. The country's first confirmed case was a 46-year-old Tanzanian woman who travelled from Belgium.
"From 23 March, all visitors entering Tanzania from countries with reported coronavirus cases, including Tanzanian nationals will undergo a mandatory 14-day quarantine at specified locations at their own expense," he said.
Magufuli also instructed relevant authorities to ensure all border crossing points into the country have screening equipment and urged security personnel to intensify border patrols to ensure all those entering the country are screened.
He sent out a warning to those spreading misinformation on covid-19 leading to panic, adding that the government will begin a crackdown on those peddling the fake news. In Kenya, blogger Robert Alai is set to be charged in court on March 23 for allegedly posting false information on coronavirus, in contravention to the Computer Misuse and Cyber Crimes Act 2018.
READ ALSO: You face 10 years in jail for spreading fake coronavirus news
In a twitter post, Alai had claimed that the government was withholding crucial information on the spread of the coronavirus and that the disease's impact was underplayed.
Entertainers hard-hit
Among Tanzania's confirmed coronavirus cases are rapper Hamisi Mwijuma alias Mwana FA and singer Diamond Platnumz's manager, Sallam Sharaff.
Mwana FA said that he developed symptoms of coronavirus after returning from South Africa. Through a message on social media, the rapper, currently in self-quarantine urged his fans to take precautionary measures to halt the spread of the deadly virus.
Similarly, Sharaf broke the news that he'd tested positive via social media and that he is in isolation.
"The result came back and I am positive with coronavirus but I am doing fine now and everything is going on well," posted Sallam.
Uganda's drastic measures
On Sunday, Uganda closed its borders with Kenya at Malaba after confirming its first coronavirus case. Commuters and truck drivers who were caught unawares by the move were left stranded at the Malaba border crossing. Kenya is yet to close its borders, only directing arrivals to self-quarantine.