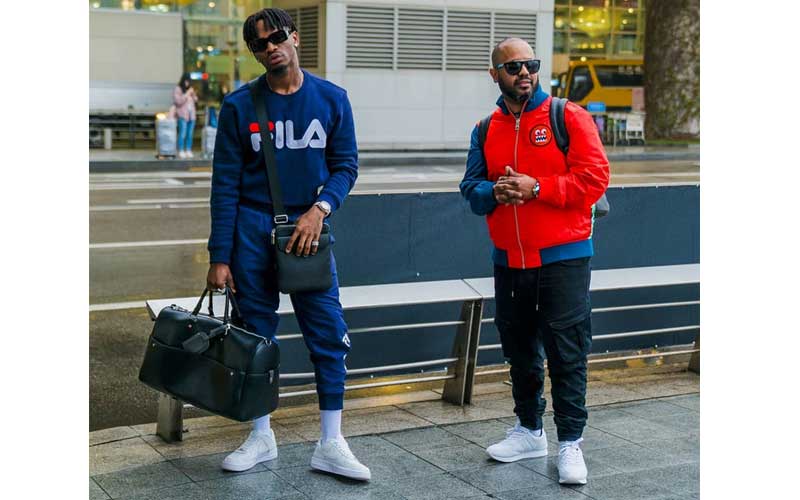 Diamond Platinumz has failed to deny or confirm reports that one of his managers, Sallam SK has tested positive for Coronavirus.
Through an interactive session on his Instagram page, the father of four blatantly said that he was not in-charge of addressing rumours being peddled on social media about his management and if anything, his office could have addressed the situation through the right channels.
He added that he was in the company of Sallam SK during his recent Europe tour that was cut short.
"Hayo ni mambo ya ofisi kwenye management unazungumza mambo ya ofisi hayo. Lakini mtandaoni kuna mambo mengi sana, lakini si unajua ofisi bana, hapa mimi nazungumza tu na mafans wangu. Alafu kule wanasema pia mimi nilikuwa huko huko. So tuko vizuri mwenyezi Mungu anasaidia," said Diamond.
This comes hours after Sallam announced that he is in isolation after being diagnosed.
"Napenda kuwajulisha na kuwatoa hofu ndugu, jamaa na marafiki kuwa nimepata majibu ya vipimo na nimeonekana nikiwa na coronavirus, kwa sasa nipo chini ya uwangalizi mzuri na afya yangu inaendelea vizuri.
"Pia niishukuru serikali kwa maandalizi mazuri na huduma nayopata wodini, kwenye kituo toka juzi nipo peke yangu kama nimekikodisha vile," he shared.
On March 13, Sallam announced Diamond's Europe tour was off due to the outbreak of coronavirus.
"Diamond Platnumz's Europe tour postponed... New dates will be announced soon #coronavirus," shared Sallam.
The singer was slated to tour Gothenburg- Sweden's second-largest city, Helsinki (Finland), Marseille (France), Brussels (Belgium), and Dortmund (Germany).
Sallam is the first high profile name in Tanzania's celebrity and entertainment circles to test positive for the COVID-19.
Yesterday, popular rapper Mwana FA, became the second. According to a message he sent out to his more than 3.3 million Instagram followers, the rapper developed symptoms of coronavirus after returning from South Africa.
Mwana FA urged his followers to take precautionary measures, saying that he self-quarantined to halt the spread.
"Nawaomba tu tuchukue tahadhari kwa kadri ya uwezo wetu kukwepa usitupate na hata tukipatwa nao sio tatizo la kivile hata, virusi wake wanaondoka wenyewe baada ya siku kadhaa tu. So yah, sisi wa nchi hizi tulioandamwa na migonjwa mikubwa mikubwa katika kukua kwetu,haya 'mafua' wala sio kitu cha kututisha. Itakuwa tu sawa. Tuweni na amani tu mioyoni," he added.
This comes at a time when Tanzania continues to confirm Coronavirus cases. On 18 March, Tanzanian Prime Minister Kassim Majaliwa told journalists that two patients who tested positive were foreign nationals from the US and Germany. One case was confirmed in Dar es Salaam and one in Zanzibar.