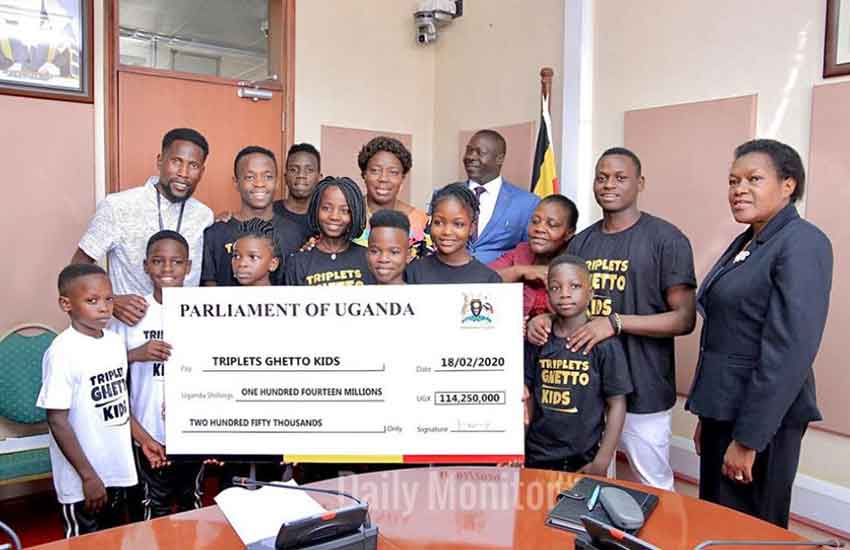 Popular Ugandan dance group Triplets Ghetto Kids can now rest easy in the comfort of their Makindye mansion after staring at foreclosure for months.
This is after the Ugandan parliament through its speaker Rebecca Kadaga honoured its pledge to offset the group's Sh2,807,355 (Ugx 102 million) arrears on the multi-million house.
According to Jane Kibirige, Ugandan parliament clerk, MPs made the contributions in January, a month after the landlord served Triplets Ghetto Kids with an eviction notice.
Speaking during the cheque's handover ceremony, Kibirige explained that they had to observe due diligence and that the extra Sh392,204 (Ugx14,250,000) raised is to cater for the ensemble's welfare.
"On December 19, 2019, the ghetto kids were amidst us and performing so MPs pledged to contribute on learning that the ghetto kids were on the verge of losing their residence. We didn't know who was who, we had to investigate who the landlord is so as to give him the money in the presence of the beneficiaries.
"Those who were saying that parliament had failed to deliver, and it was rather a disturbing comment. First of all, we made the pledge at the end of the year and we had to organise ourselves in January to collect that money," said Kibirige.
Marshalling MPs during parliament's 2019 end of year party, the house speaker, Kadaga, noted that the plight of the talented group that featured in French Montana's music video for 'Unforgettable' and performed at the 2017 BET Awards was a concern for all.
"I think he has not yet done," said Kadaga as she explained that she had reached out to President Museveni to chip in. "The deadline is December 31, 2019. I want to ask the hon MPs, I know we are running so many projects, but if each of us is to raise Sh6,880 (Ugx250,000) we can pay for this house and save these children. Sh6,880 (Ugx250,000) is money we spend, do we support?" Pleaded Kadaga.
Read Also:Uganda's Ghetto Kids flaunt new mansion, thank French Montana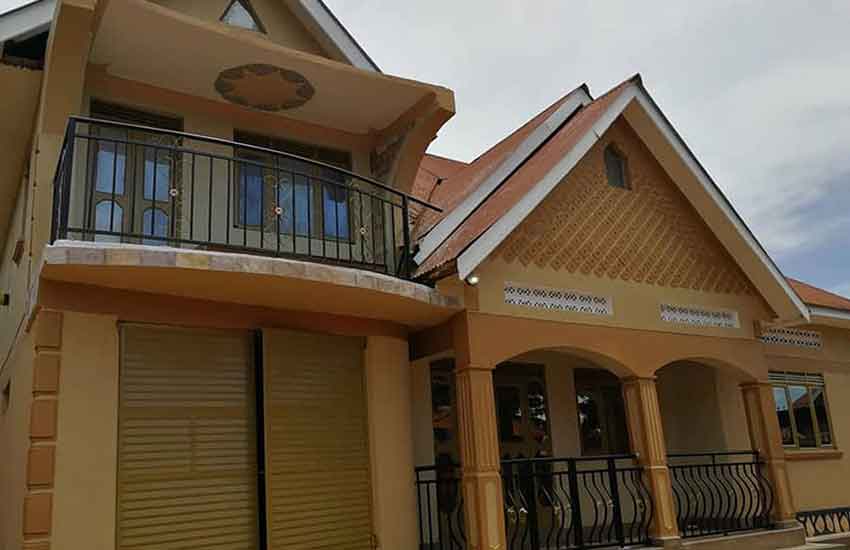 A much welcome relief for to their manager Teacher Kavuma Dauda who at the time highlighted that they were lagging in payments after making a Sh4,954,156 (Ugx180 million) deposit.
The group used Ugx. 70million donation from Montana's to refurbish the 2018 purchase and cater for other miscellaneous expenses.
"We are going to be evicted anytime because we have not yet paid the money. French promised us more money to complete the house but we spent most of it in renovations since the house was not fully furnished. Things haven't been moving so well for us, because I have to pay their school fees, the medical bills.
"So we either have to sell the house and get the money that we put in or pay the owner's balance.  They deposited Sh4,954,156 (Ugx180 million) and left with a balance of Sh3,082,586 (Ugx112 million shillings) and the landlord gave them up to November this year to complete the balance, something that they have failed to fulfil neither do they have hope of getting the money," said Dauda.
Read Also: Uganda's Ghetto Kids on a new high, featured by Chris Brown
Now that it is all behind them, Patricia Nabakooza, the Ghetto Kids spokesperson said that they are indebted to the speaker and grateful for the donation.
"We have inexplainable gratitude we feel towards the Speaker and the Parliament at large. We made a call and the speaker fundraised so as we don't lose our residence."
"We pledge to parliament and Ugandans at large that we shall continue to raise our flag high. We thank the 10th parliament," said Nabakooza.